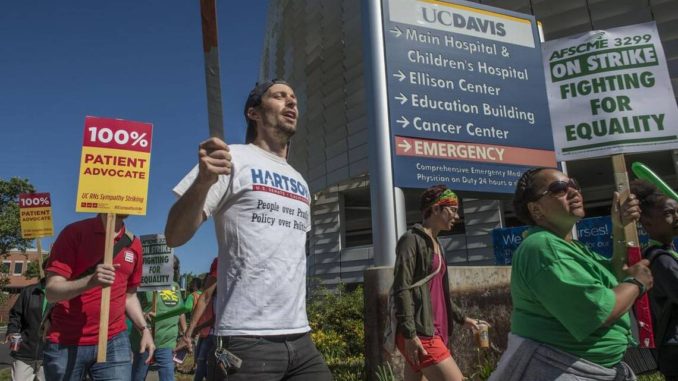 Reprinted from The Sacramento Bee by Molly Sullivan on May 9, 2018.
A massive three-day strike across the University of California system ended Wednesday without resolution. The walkout involved roughly 53,000 UC service and patient-care workers belonging to three unions. Combined, the unions have about 10,000 members at UC Davis and its medical center in Sacramento. …
Initiating the strike were the 24,000 members of the American Federation of State, County and Municipal Employees, UC's largest employee union. It includes respiratory therapists and surgical technicians in its health care unit and custodians and groundskeepers in its service unit. Joining AFSCME Local 3299 for the second and third days of the strike were the California Nurses Association, with 14,000 members, and the 15,000-member University Professional and Technical Employees-CWA. All thee unions have been locked in lengthy contract negotiations with UC. The university system, with 10 campuses and five medical centers statewide, employed roughly 223,400 people as of October 2017.
The labor dispute centers on wages and job security. AFSCME 3299 negotiators have sought wage increases of 6 percent, a freeze on health-care premiums and elimination of contracting out jobs for which its members are trained. AFSCME 3299 rejected the university's last-and-best offer of 3 percent across-the-board wage increases and a prorated, lump-sum payment of $750. …