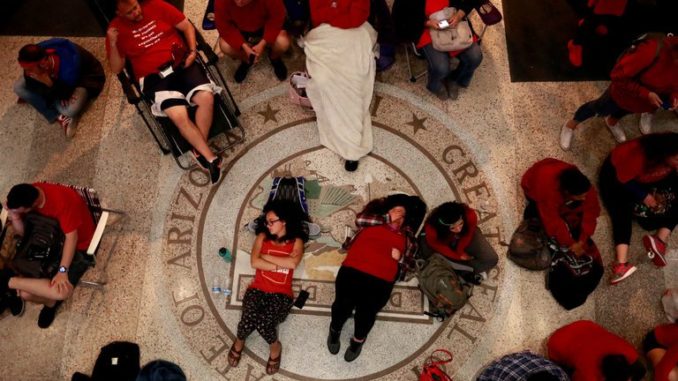 Reprinted from The New York Times by Dana Goldstein on May 3, 2018.
A week into a statewide teacher walkout in Arizona, Governor Doug Ducey signed a budget bill on Thursday that he said would provide teachers with the 20 percent raises they had demanded, in addition to new funds for classrooms.
While the organizers of the walkout said the bill might not produce as much as the governor promised, they announced an end to their labor action, which had kept hundreds of thousands of children out of school.
Arizona is the fourth state this year, after West Virginia, Oklahoma and Kentucky, where protesting teachers left classrooms and won concessions from conservative lawmakers — though the agreements have often fallen short of initial demands. In some of the states it has proved easier for Republicans to support pay raises for educators than to provide the large annual funding increases for classrooms that teachers and many parents are asking for.
At least one additional state, North Carolina, is expecting a widespread teacher walkout in the coming weeks. …
Reprinted from The Daily Kos by Laura Clawson on May 3, 2018.
On the sixth day of their walkout, Arizona teachers have won a partial but real victory, as the state legislature pass and Republican Gov. Doug Ducey signed a bill including a substantial pay raise for many teachers and an increase in education funding. The increase, though—$100 million in what Ducey calls "flexible dollars to improve our public education system"—falls far, far short of what teachers were calling for:
"The people down here, a lot of them, don't listen to our voices," said Noah Karvelis. He is one of the organizers of Arizona Educators United, the group that crafted the #RedForEd movement that, along with the Arizona Education Association, organized the strike that began last Thursday.

"They don't respond," Karvelis continued. "If they did, we'd have $1.1 billion for education in this budget." …