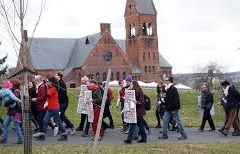 Reprinted from The Cornell Daily Sun by BreAnne Fleer on May 17, 2018.
Cornell University violated the National Labor Relations Act through an email sent to graduate students on the night before the March 2017 graduate student union recognition election, arbitrator Howard Edelman from the American Arbitration Association ruled on Wednesday.
The arbitrator found that the email sent on March 26, 2017, by Senior Vice Provost and Dean of the Graduate School Barbara Knuth contained a statement that violated the NLRA, according to the arbitrator's award document.
The University and Cornell Graduate Students United have been in arbitration since this February, when the union's legal counsel filed objections to University conduct in the March 2017 union recognition election.
The results of the election are still unresolved, with 856 votes in favor of union representation, 919 votes against and 81 uncounted ballots, according to the award document. …