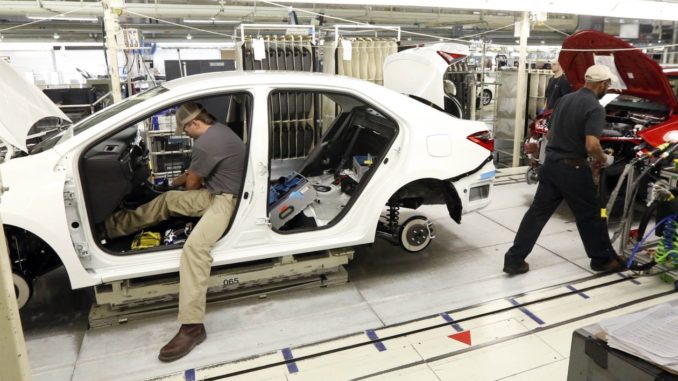 Reprinted from The Wall Street Journal by William Mauldin on May 7, 2018.
The Trump administration is seeking to complete its overhaul of the North American Free Trade Agreement with new rules that would penalize the Mexican auto industry unless it boosts wages—to roughly $16 an hour.
The administration is winning some support from US auto makers for its NAFTA proposals by including terms that would favor US manufacturers over Asian and European rivals that produce cars in the US.
Support from Detroit might help the administration reach its goal of concluding a NAFTA deal by mid-May, which could allow it to push the pact through Congress by year-end.
Under NAFTA, US manufacturers have produced in Mexico where wages are cheaper, but the Trump administration now is seeking to force Mexican factories to pay more for labor—or send auto jobs back to the US or Canada. …
Former Mexican President: Mexico and Canada, Don't Cave to Trump
Reprinted from The Washington Post by Ernesto Zedillo on May 7, 2018.
Ernesto Zedillo, a professor in the field of international economics and politics at Yale University, was president of Mexico from 1994 to 2000. He is also a member of the Berggruen Institute's 21st Century Council.
"Representatives from the United States, Mexico and Canada are meeting in Washington Monday for continued negotiations over the North American Free Trade Agreement," writes Ernesto Zedillo in The Washington Post. "A year ago, when Robert Lighthizer, the US trade representative, notified Congress that the Trump administration aimed to renegotiate NAFTA, the intent seemed legitimate and benign. But it is clear by now that this is not the case.
"At the time, Lighthizer argued that the 25-year-old agreement did not reflect the standards warranted by changes in the economy. Provisions on digital trade, for instance, could not have been adequately incorporated into NAFTA in the early 1990s. Understandably, Lighthizer argued that supporting better-paid jobs and faster US economic growth should be the objective of the modernized NAFTA. It was also alleged that the agreement needed to be updated on key issues such as intellectual property rights and labor and environmental provisions. …