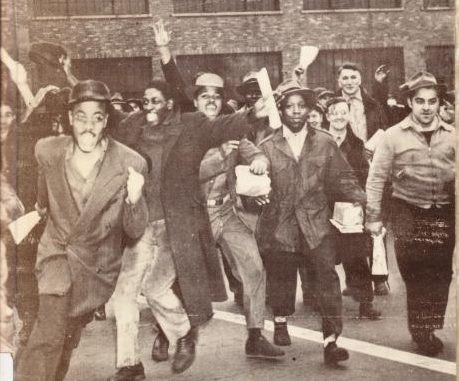 Reprinted from Jacobin by Martin Glaberman on May 31, 2018.
"A surprising feature of most of the recent teachers strike wave is that it has mostly taken hold in Republican-dominated states where unions are institutionally weak and politically isolated," writes Martin Glaberman in Jacobin. "How could states that voted for someone as reactionary as Donald Trump also see teachers brazenly walking off the job — often in defiance of the law and their own union leadership, while pushing for a broad pro-public education and anti-austerity agenda — only eighteen months later?
"Behind such puzzlement is the thinking that workers' ideas are what leads to their willingness to take militant workplace action. In this view, if a worker holds conservative political beliefs — say, they're a fundamentalist Christian, or support Trump's racist call to 'build the wall' — they aren't likely to go on strike; but if they're more sympathetic to left-leaning views on economic policy and oppose openly bigoted statements, they will be more amenable to walking off the job.
"The teachers strike wave scrambles this logic. How can we explain this discrepancy?
"[Jacobin] recently finished Martin Glaberman's Wartime Strikes: The Struggle Against the No-Strike Pledge in the UAW During World War II. The book recounts the battles within the United Auto Workers (UAW), the country's most important industrial union at the time, and the rest of the Congress of Industrial Organizations (CIO) over the no-strike pledge pushed by President Franklin Delano Roosevelt during World War II. It also tells the story of the rank-and-file auto workers (members of the UAW as well as the Mechanics Educational Society of America [MESA]) and miners who walked off the job during the war in defiance of the pledge. …