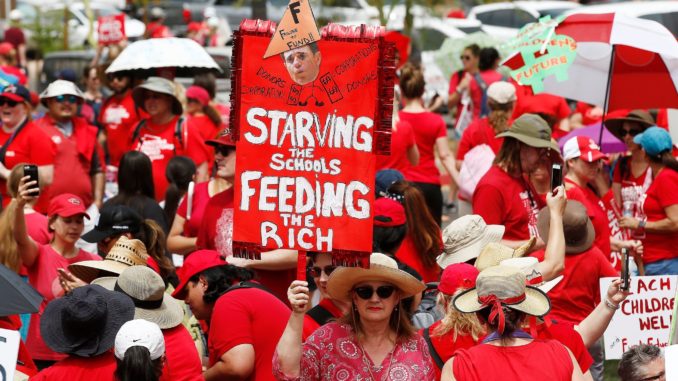 Reprinted from The New York Times by Steven Greenhouse on May 9, 2018.
"In the five states where teachers have gone on strike this year, teachers complain about many of the same things: low salaries, an education funding squeeze and teacher shortages," writes Steven Greenhouse in The New York Times. "They have something else in common. In four of the five — Arizona, Kentucky, Oklahoma and West Virginia — these strikes are illegal under state law. (Colorado, the fifth state where teachers walked out, allows them.)
"While private-sector workers generally have a right to strike under federal law, state law governs whether teachers and other state and local government workers can strike. Three dozen states have laws prohibiting teachers from striking. Clearly, making teacher strikes illegal will not necessarily prevent them.
"In the states where teachers walked out, many teachers felt they had to beg their state legislatures to approve raises and the funding to pay for them. But their pleas were largely ignored. Joseph McCartin, a labor historian at Georgetown University, says that when workers feel they are at a dead end in negotiating raises, militant outbursts — such as illegal walkouts — are inevitable. 'When collective bargaining isn't allowed or doesn't work, that doesn't mean collective action isn't possible,' he said. …