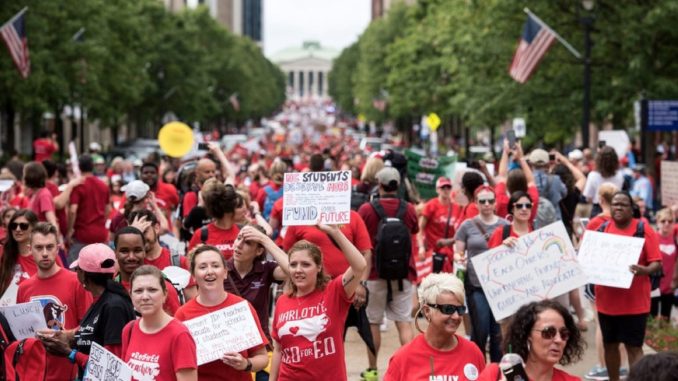 Reprinted from The New York Times by Dana Goldstein on May 16, 2018.
The nationwide teacher protest movement spread to a sixth state on Wednesday as thousands in North Carolina rallied at the Capitol for higher pay and more money for schools. It was the first mass walkout for teachers in the state.
In the months since the movement began, teachers have walked out in deep-red states and purple states; in states with booming economies and ones that are struggling; in states where school funding scrapes the bottom, and others where the numbers are closer to the national average.
Despite the diversity and seemingly endless energy, the movement has limits. Most states have schools that are funded more or less equally from state and local coffers, with voters making many financial decisions close to home. But North Carolina shares something with other walkout states: Its state government plays an unusually strong role in funding education and setting its priorities, often superseding the influence of school districts. …