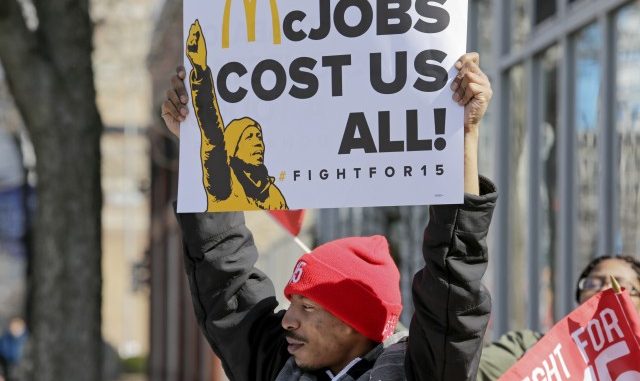 Reprinted from The American Prospect by Manuel Madrid on May 29, 2018.
"Shortly before the company's annual shareholder meeting last week, more than 100 cooks and cashiers rallied in the rain outside McDonald's new headquarters in Chicago's West Loop to demand higher wages," writes Manuel Madrid in The American Prospect. "In recent years, the meeting has attracted demonstrations organized by the union-backed Fight for 15 movement. But in 2018, a new grievance appeared on the roster of complaints against one of the world's largest fast-food chains: sexual harassment. With the help of Fight for 15, ten current and former female McDonald's employees in nine different cities have taken legal action against the company over alleged instances of harassment by employees and managers.
"Most shareholders appeared largely indifferent to the unrest. The topics of pay and harassment did not appear on the group's agenda, which included elections to the board of directors, approval of new executive compensation packages, and votes on other shareholder proposals.
"But Alexa Kaczmarski, national campaign organizer for the nonprofit group Corporate Accountability, eventually brought up the sexual harassment charges and called for more responsiveness from the company. 'It is tone-deaf and wrong for the corporation to try to avoid accountability on these and other issues,' Kaczmarski said.  …