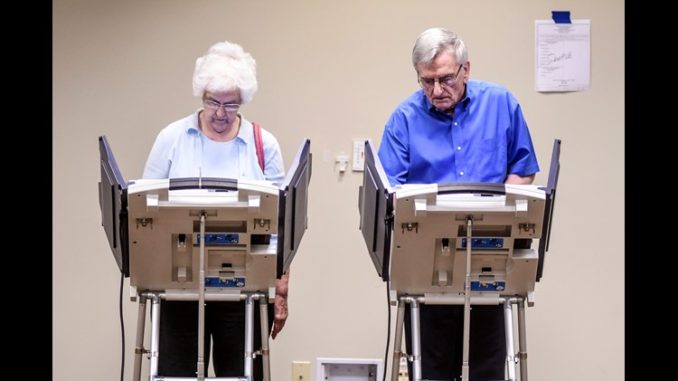 Reprinted from The New York Times by Alexander Burns and Jonathan Martin on June 13, 2018.
… Across four states with contested primary elections, Democratic voters embraced the candidates favored — and in some cases handpicked — by party leaders in Washington and the states, spurning insurgents who tried to align themselves with the activist left.
In a crucial House primary in Northern Virginia, it was Jennifer Wexton, a state senator endorsed by Governor Ralph Northam, who emerged from a throng of candidates looking to challenge Representative Barbara Comstock, a gravely vulnerable Republican. In two Nevada House races, Democrats nominated Steven Horsford, a former member of Congress, and Susie Lee, a wealthy philanthropist and party donor, by resounding margins after Democratic leaders lined up behind them.
That deferential attitude defined voting in races for governor, too: In South Carolina, Democrats picked James Smith, a state legislator and military veteran close to Joseph R. Biden Jr., to run for governor, giving him more than 60 percent of the vote against two rivals. In Nevada, Steve Sisolak, a Clark County commissioner forcefully backed by Harry Reid, the former Senate Democratic leader, repelled an opponent on the left, Chris Giunchigliani. (In a third gubernatorial primary, in Maine, Janet Mills, the state attorney general, held a modest lead over her Democratic rivals, but the race was too close to call.) …
Election Win Puts Democrats Close to Taking Wisconsin Senate
Reprinted from The San Francisco Chronicle by Todd Richmond on June 13, 2018.
A Democratic win in another Wisconsin special election has the party within striking distance of recapturing the state Senate and ending Gov. Scott Walker and his fellow Republicans' stranglehold on state government, a priority for Democrats nationally as another round of redistricting nears.
Many in the party acknowledge overlooking local races for years, and they're now fighting to claw back at least a share of power in as many states as possible to thwart another round of Republican map-drawing.
Organizing for Action, a political group that evolved from former President Barack Obama's campaign operation, announced Tuesday one of its priorities was flipping control of the Wisconsin Senate. The National Democratic Redistricting Committee, run by former US Attorney General Eric Holder, spent at least $35,000 supporting Caleb Frostman, the winning candidate in Tuesday's special Senate election. …