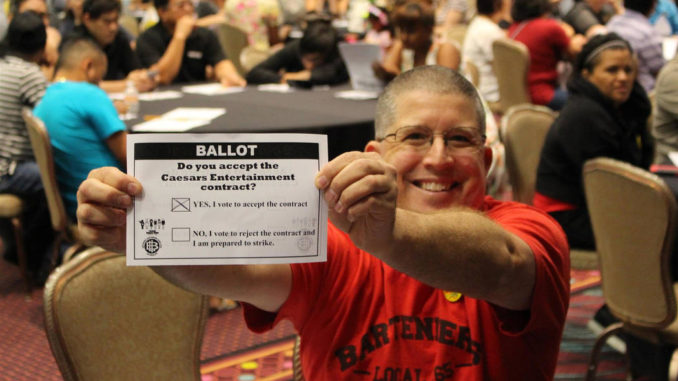 Reprinted from The New York Times by The Associated Press on June 14, 2018.
Housekeepers, bartenders and other unionized workers at Las Vegas casino-resorts operated by Caesars Entertainment approved a new five-year contract, ending the possibility of a strike at those properties.
A few thousand members of the Culinary Union voted in two sessions to ratify an agreement that addresses sexual harassment in the workplace, job security, wage increases and immigration status. The approved contract covers 12,000 workers on the Las Vegas Strip and a nearby property.
Employees of Caesars, one of the largest resort operators in the tourist destination, helped authorize a strike last month over the lack of progress in contract negotiations covering 50,000 union members. The union later reached a tentative deal with Caesars, followed the next day by a separate deal with MGM Resorts International, the other large hotel operator in the city. …
The union is now negotiating contracts with smaller companies that operate 15 properties on the Las Vegas Strip and in downtown Las Vegas, including the Tropicana, Treasure Island and The D. Union negotiators met Thursday with the Golden Nugget operator.