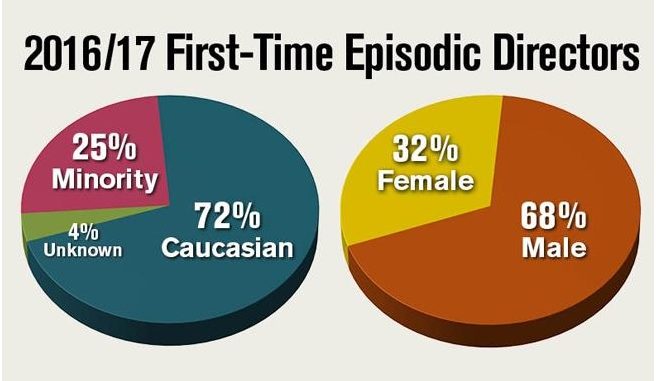 Reprinted from Deadline Hollywood by David Robb on June 21, 2018.
Saying that discrimination is "still rampant" in the film industry, the DGA on Thursday released its second report on Feature Film Diversity, which found that only 9.7% of live-action American films with box office takes of at least $250,000 were directed by minorities last year — a five-year low and a precipitous drop of 46% since 2013.
Female directors fared considerably better than in recent years — up in numbers by 100% compared with 2013. According to the report, 22 women directed 12.2% of all feature films last year that grossed more than $250,000 — double the number from five years ag. But as a percentage of the population, they're still more underrepresented than minority directors.
Read the full report here.
"It's outrageous that we're once again seeing such a lack of opportunity for women and people of color to direct feature films," DGA president Thomas Schlamme said. "Our new study shows that discriminatory practices are still rampant across every corner of the feature film business. These numbers hit home how the chips are stacked against women and people of color. We dug into our proprietary data to see if we could isolate areas that were bright spots or especially problematic. But as we kept going, it became clear that no matter how you slice the 2017 numbers, the outcome is virtually the same." …
Forget 'Wonder Woman' and 'Get Out': Most Directors Were White Men in 2017, Study Says
Reprinted from The New York Times by Cara Buckley on June 21, 2018.
For all the outcry over #OscarsSoWhite and the paucity of women and people of color in prominent roles onscreen and behind the scenes, diversity among film directors remained low last year, according to a report issued Thursday by the Directors Guild of America.
The high-profile successes of Wonder Woman, directed by Patty Jenkins, and Jordan Peele's Get Out may have suggested the situation was changing across the board. But the report painted a mixed picture: For films produced and released domestically in 2017 that made $250,000 or more at the box office, 12 percent of the directors were women — a five-year high, according to the report — and 10 percent were people of color, a five-year low.
The guild analyzed 651 live-action films released theatrically in the United States — documentaries, animated films and rereleases were not included — and found that 16 percent of their directors were women. The guild was not able to glean verifiable data on minority directors for that pool of films because not all the productions were signatories to its labor agreements. The report drew its data on minorities from the 141 films that made $250,000 or more and were Directors Guild signatories. That 10 percent of those directors were people of color represented a drop from 17 percent in 2013. …