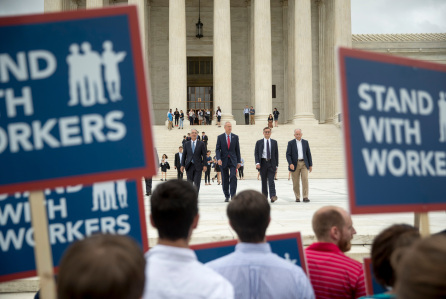 Reprinted from Deadline Hollywood by Erik Pedersen on June 27, 2018.
As organized labor was left reeling from Tuesday's Supreme Court's decision in Janus v. AFSCME that public service employees don't have to pay union fees, Hollywood guilds planted a flag of defiance. …
IATSE International President Matthew D. Loeb

"This terrible decision is a sign of our times and the political mess in which we find ourselves. Soon, all working people, not just those in the public sector, will face the ramifications of the Supreme Court's actions, in the form of diminished bargaining rights and weaker contracts.
This is a dark day for all of organized labor, but we can and we must continue to press back against this ongoing assault. We must continue to grow and strengthen our unions through organizing, no matter what the laws are. We didn't need permission to fight back against the robber barons of the Gilded Age, and we do not need it to fight back against the robber barons of today. Read Loeb's message to IATSE members here. …