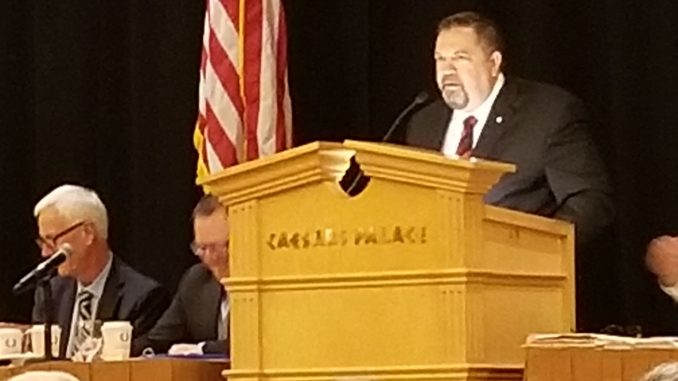 The International Alliance of Theatrical Stage Employees' (IATSE) International President Matt Loeb told delegates gathered at the union's District 2 Convention in Las Vegas on Saturday, June 9, that he was not afraid to get tough when contract negotiations with the producers resume in the coming weeks. "We won't be afraid to wrestle at the edge of the cliff," Loeb told applauding delegates.
Though there has been a media blackout on stalled negotiations for a new Basic Agreement, industry trades reported that the talks were scheduled to resume June 26 — just days before the July 31 expiration of the current contract. Long hours, safety, and pension and health benefits are the union's chief concerns. An industry-wide strike, if it should come to that, would be the first for the West Coast Bargaining unit IATSE's 125-year history.
"I'm not looking for a war," Loeb said, addressing that point. He also suggested that further delay in negotiations would benefit the union and that the new media model should include residuals. Delegates applauded enthusiastically.
"We won't be afraid to wrestle at the edge of the cliff," IATSE International President Matt Loeb told delegates, discussing contract negotiations with the producers. "[But] I'm not looking for a war."
District 2, representing IA locals in Arizona, California, Hawaii and Nevada, is known to be politically active. Delegates at this annual convention endorsed two California bills to extend its tax credit program for motion pictures. They also called for support of efforts to oppose so-called "Right to Work" campaigns.
Reports were presented to the delegates by Secretary-Treasurer of District 2, Ed Brown, and by IA President Loeb. Delegates broke out into one of 12 committees: Activism Committee, Constitution and By-Laws, Credentials, Diversity, Education, Finance, Legislative, Memorial, Resolutions, Safety, Special and Young Workers.
The Constitution and By-Laws Committee recommended the acceptance of digital signatures for approving resolutions.
Six Resolutions were passed. They dealt with the possible dangers of electromagnetic fields and radio frequency waves from wireless devices, a sensitivity to transgender people, an expanded effort on diversity, a re-invigorated understanding of climate change, a stronger resolve to eliminate pay inequality by gender, and  support of Pride at Work, which lends support to LGBTQ workers.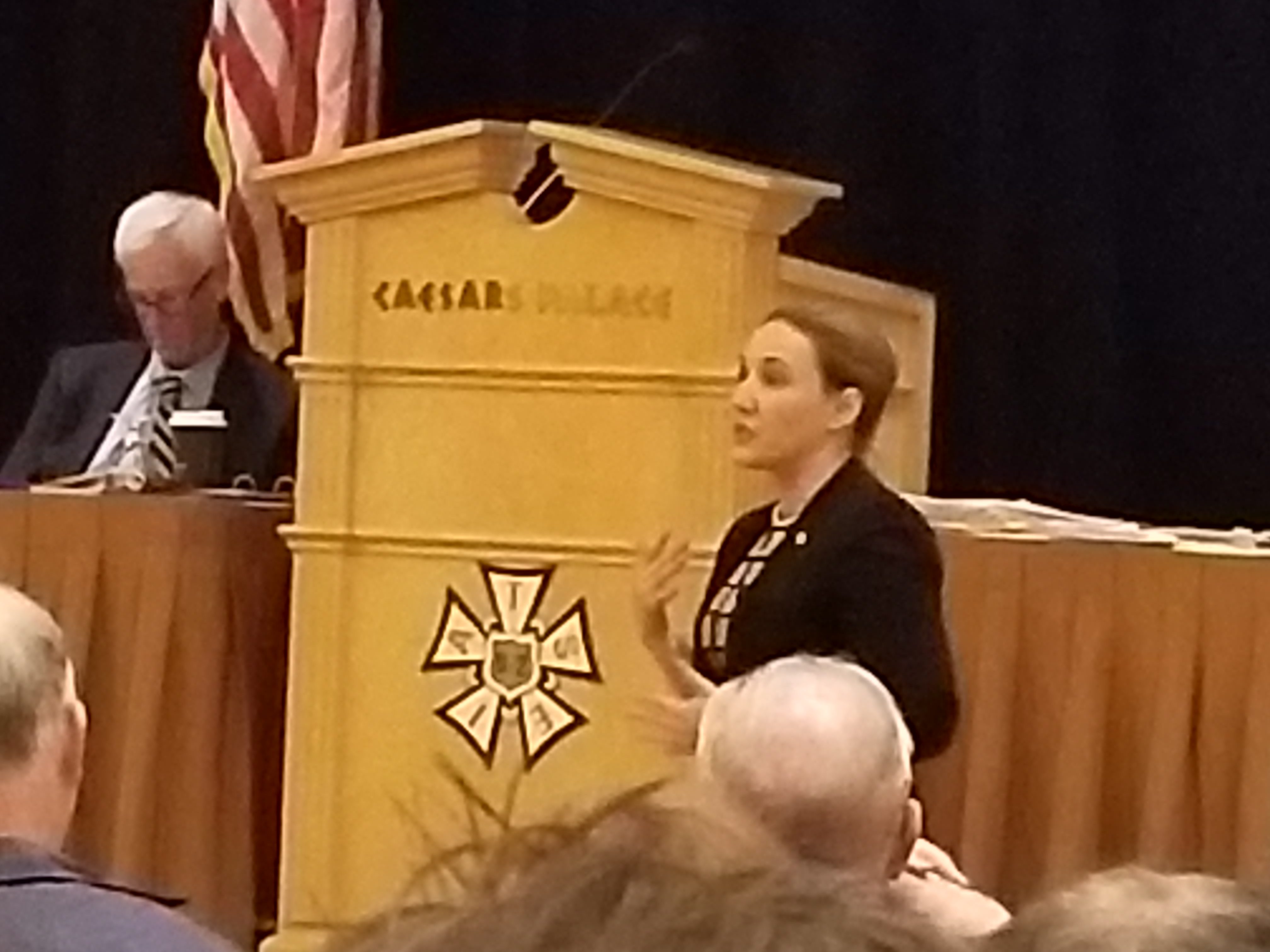 Erica Dinkle-Smith, the IA's Political and Legislative Director, discussed the upcoming struggle of the so-called Employee Rights Act (HR 2723), noting that it would "make it an unlawful labor practice for a labor organization to interfere with the rights of employees to organize and collectively bargain" and  would "require union re-certification after a turnover in the workforce exceeding 50 percent of the bargaining unit." The bill would make it harder to form and maintain unions.
Dinkle-Smith also suggested that Nevada could become the first state to go from being a "Right to Work" state to being a "Fair Share" state. She also raised the necessity of matching the efforts by the Koch brothers to influence the fall elections.
Loeb considered advances in labor law in Canada. He pointed to advances in Canadian pension plans and in women's participation in public policy and union leadership. Seeing a more progressive administration in Canada, he commented, "You don't have to elect an idiot," referring to US President Donald Trump.
Loeb's keynote address said organized labor is anticipating an imminent decision in the Janus v. AFSCME Council 31 case currently before the Supreme Court, which will speak to whether public sector employees who benefit from union contracts can refuse to pay union dues.
Also, in discussing a seismic shift in workplace safety regarding sexual harassment, Loeb declared, "Harassment is intolerable. Period."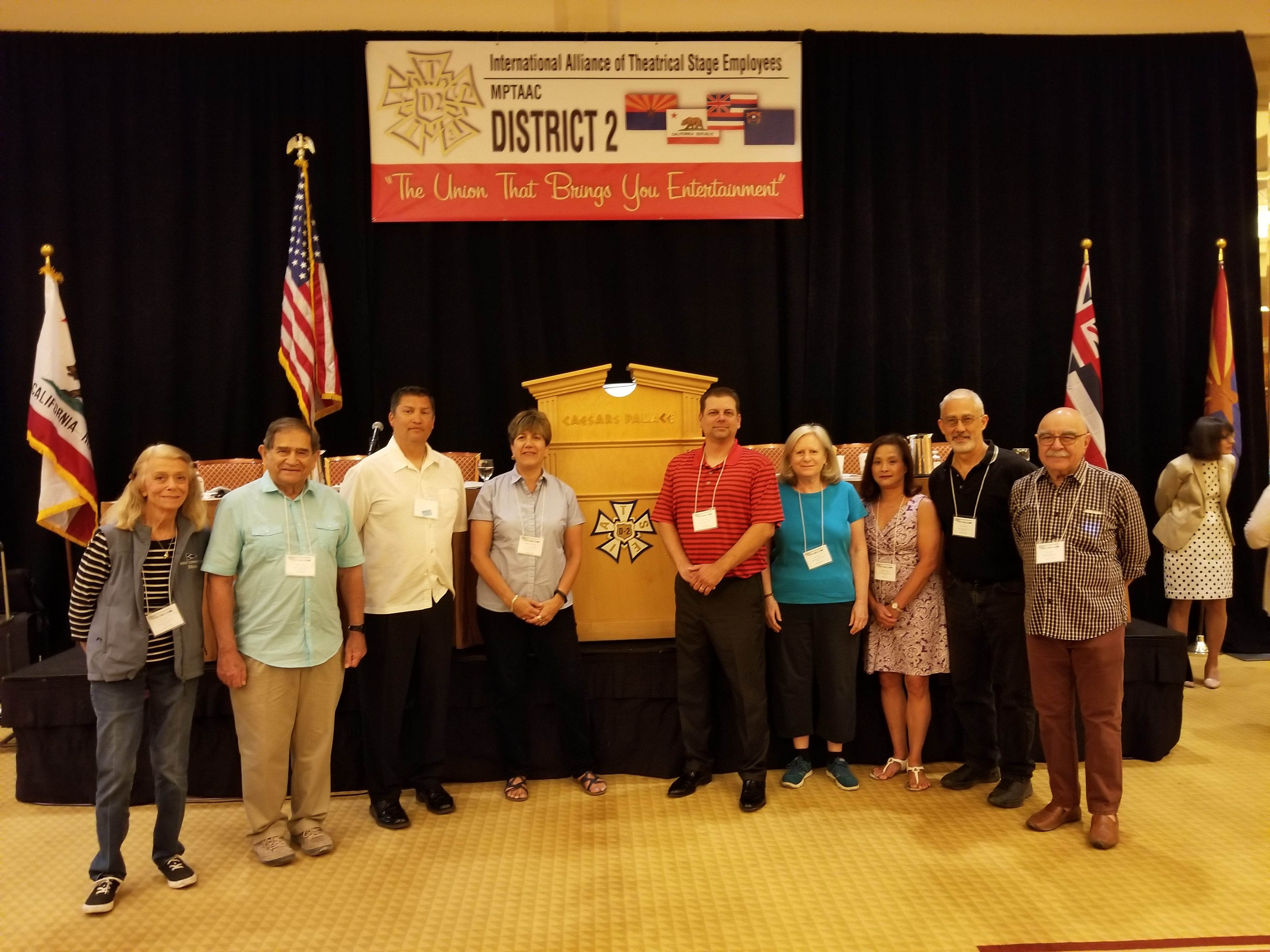 Guild members were represented by Editors Guild National Executive Director Cathy Repola, Western Executive Director Scott George and Board members Alan Heim, ACE (President), Diane Adler, ACE (Secretary) ACE, Rachel Igel (Treasurer), Bill Elias (Sergeant-at-Arms), Jeff Burman, Frank Delgado and Stephanie Lowry.  District 2 consists of 49 locals with 51,345 members.  There were 207 delegates in attendance.