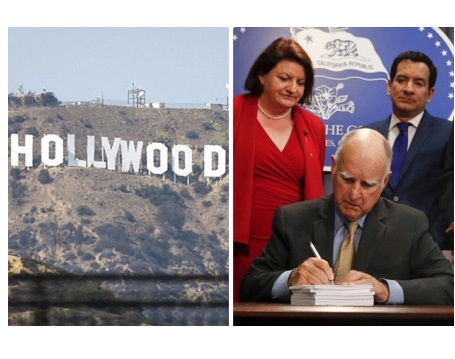 Reprinted from Deadline Hollywood by Dominic Patten on June 27, 2018.
With less than six months before his successor is elected, California Governor Jerry Brown on Wednesday extended one last gift to Hollywood with the signing of his last state budget and legislation to continue the $330 million film and television tax credit program.
Inking the $201 billion budget Wednesday in Los Angeles, Brown didn't make any specific comments about the extension of the program until 2025, but he was on a swan-song roll worthy of a Tinseltown tentpole. "When I took office back in 2011 with the state facing a $27 billion deficit, I pledged to work with the Legislature to fix California's financial mess," the governor declared as the budget and SB 871 on the credits were signed. "Today, the final budget I sign delivers on that pledge and prepares us for the future.
While never a proclaimed big priority for the Northern Cali-centric Brown, the growth of the 2009-originated $100 million-a-year, blockbuster-avoiding and lottery determined program has proven a winner. Since the new non-lottery and employment-emphasizing 2.0 version was made law by Brown at a Hollywood Blvd event in September 2014, the once set to expire in 2020 program has been steadily bringing production back to the home of Hollywood from other states and countries. …