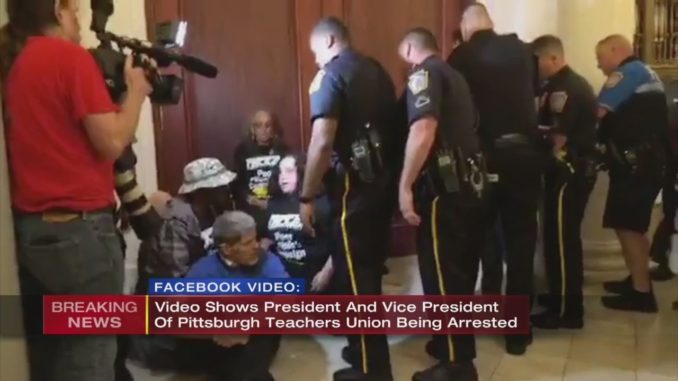 Reprinted from The Pittsburgh Post-Gazette by Liz Behrman on June 14, 2018.
The president and vice president of the Pittsburgh teachers union were arrested for disorderly conduct Monday after refusing to leave the State Capitol Rotunda during a rally, according to a news release from the union.
Pittsburgh Federation of Teachers president Nina Esposito-Visgitis and vice president William Hileman were fined and released Monday afternoon, along with six others who were arrested during the Poor People's Campaign rally in Harrisburg. According to the release, they were among dozens rallying with a group that has appeared in the capitol in recent weeks to advocate for various social issues and causes.
Their arrests could not be immediately confirmed with Capitol Police.
"Making sure that every child has access to a quality education and that every worker has the right to unionize are issues that are worth getting arrested for," Esposito-Visgitis said in a statement. "Our membership stands shoulder to shoulder with the Poor People's Campaign to raise people up by investing in our public schools and increasing the minimum wage." …