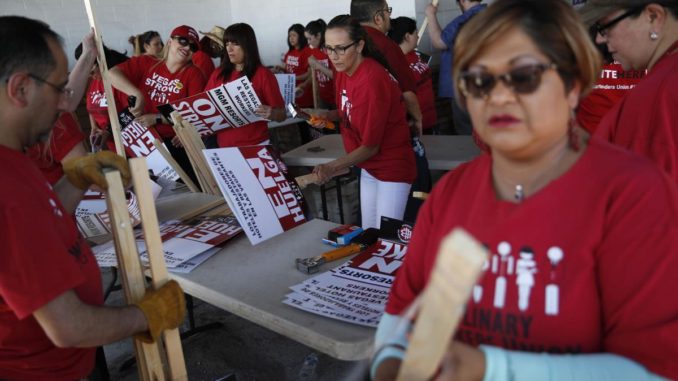 Reprinted from The New York Times by The Associated Press on June 3, 2018.
A union for casino-hotel workers says it has reached a tentative agreement with MGM Resorts International, covering nearly half of the 50,000 employees threatening to strike in Las Vegas.
The deal between MGM and the Culinary Workers Union Local 226 was announced by the union in a tweet late Saturday. A tentative accord between the labor union and the other big casino employer threatened by the job action, Caesars Entertainment, was reached Friday afternoon.
Some smaller operators have yet to reach agreements with the union and could still face the first citywide strike in more than 30 years.
The tentative deals with the two big operators came after thousands of bartenders, housekeepers, cocktail and food servers, porters, bellmen, cooks and other kitchen workers saw their contracts expire.
Reprinted from Think Progress by Luke Barnes on June 3, 2018.
Talks Continue for Remaining Las Vegas Resort Workers
… On Saturday, just as workers began to make strike signs, the Union announced a last-minute, tentative deal with MGM resorts for a new five-year-contract covering 24,000 workers at 10 casinos.
Negotiations continue with 15 other Las Vegas resorts where contracts have expired, but the fact that Caesar's and MGM, the two largest employers have reached deals makes it much more likelythat the smaller ones will soon as well. …
Increasing automation is … a major issue for casino workers, as casino operators look for ways to replace workers. Part of the union negotiation involved an independent workload study for housekeepers about the possible effects of automation. …