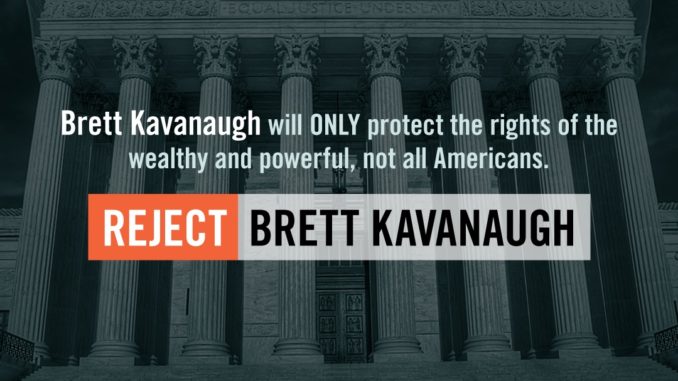 Reprinted from The AFL-CIO now by Kenneth Quinnell on July 10,2018.
Working families deserve a Supreme Court justice who will respect the rights of working people and who will enforce decades of legal precedent that protect us in the workplace. On Monday night, President Donald Trump rejected working men and women by selecting Judge Brett Kavanaugh to fill the vacancy created by Justice Anthony Kennedy's retirement.
After a thorough review of Kavanaugh's record, we are deeply troubled by his selection. AFL-CIO President Richard Trumka said:
The current Supreme Court has shown that it will side with greedy corporations over working people whenever given the chance, and this nominee will only skew that further. Recent decisions by the court, often the result of 5-4 votes, have a dramatic impact on the lives of working families and reinforce the importance of the selection of a new justice. We simply cannot have another lifetime-appointed justice unleashed who, as Justice Elena Kagan wrote in her dissent in Janus v. AFSCME, Council 31, acts as a "black-robed ruler overriding citizens' choices." …
Kavanaugh: An Originalist with a New—and Terrifying—Interpretation of Executive Power
Reprinted from The Nation by Patricia Williams on July 13, 2018.
"Recently, a friend asked me why it matters whether Supreme Court nominees are 'liberal' or 'conservative,' writes Patricia Williams in The Nation. "She understood those words to refer only to party politics: 'Aren't legal questions confronting judges supposed to be above politics?'
"I could understand her confusion. The way many media pundits have been discussing judicial ethics often conflates what is meant by liberal-conservative in the jurisprudential realm with what it means in the political realm. …
"What's at stake right now is that Brett Kavanaugh, the man our president has just nominated to the highest court in the land, isn't a mid-range 'conservative' in the tradition of Anthony Kennedy; rather he's an originalist, of the Clarence Thomas and Antonin Scalia sort. And if the executive, in nominating and endorsing originalism, joins power with a newly configured Supreme Court of committed literalists—i.e., an insuperable majority of ultraorthodox—and if this new alignment really proceeds to take the Constitution back in time, it means that Congress is going to have to pass new laws to explicitly keep in place our civil rights and social reforms, particularly when it comes to race, gender, sexuality, labor, public accommodation, immigration, and equal protection. I simply do not see a Republican-dominated Congress prepared to step up to that plate. …