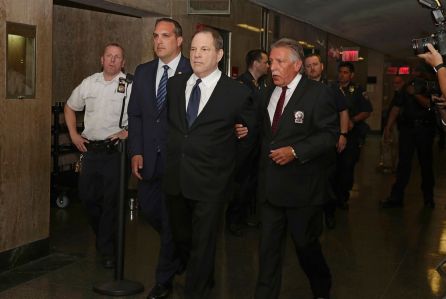 Reprinted from Deadline Hollywood by Dade Hayes on July 9, 2018.
Harvey Weinstein was led into a New York courtroom in handcuffs Monday morning and entered a plea of not guilty to charges of committing a forcible sexual act in the first degree.
Along with the plea, Manhattan Supreme Court Justice James Burke heard but did not rule on prosecutors' demands for a more stringent bail arrangement. The debate about bail took up most of the 15-minute arraignment.
Weinstein, who wore a black suit and tie, has been out on $1 million bail and staying at his longtime family home in Connecticut in recent months. Assistant District Attorney Joan Illuzzi, the lead prosecutor, began the proceeding by asking that Weinstein instead be confined to house arrest in Manhattan given the more serious charges he now faces. …