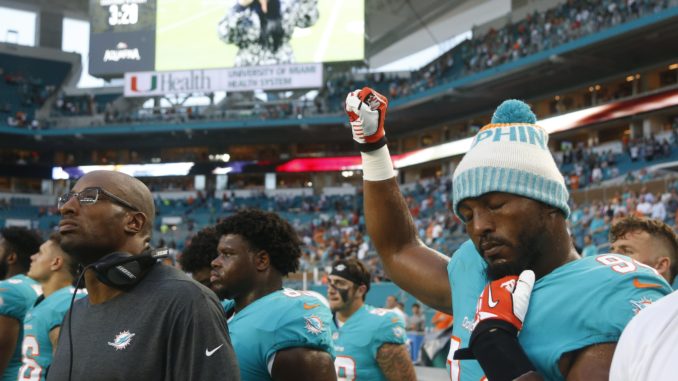 Reprinted from CNN by Jason Hanna, David Close and Kevin Dotson on August 10, 2018.
The NFL's warmup games are in full swing — and the National Anthem protests are back.
Several players on Thursday took a knee, raised a fist or did not take to the field while the anthem was played before a dozen games as the league's first full week of preseason contests kicked off.
.
.
The anthem protests — meant to draw attention to racial injustice — have happened with varying participation since 2016, pulling the NFL into a public debate that has seen 
President Donald Trump
 call on team owners to stem them. …
.
NFL Player Protests Were Never About the Anthem or the Flag
Reprinted from The Nation by Dave Zirin on August 10, 2018.
"On Thursday night, at the first preseason NFL games, players continued to protest racial inequity and police violence by kneeling or raising a fist during the National Anthem," writes Dave Zirin in The Nation.
"After two years of the players' patiently explaining that these are not 'protests against the anthem,' or 'protests against the troops,' or protests against apple pie, many in the mainstream media are being willfully obtuse in their headlines and reporting—surely to the delight of people who want the players to 'shut up and play.' This isn't just happening in the confines of Fox News. Even NPR sent a tweet with the headline, 'The national anthem protests live on in the NFL.'
"The greatest cheerleader of this willful ignorance is, of course, Donald Trump who railed against the players Monday morning in yet another effort to distract, demonize, and deflect from the numerous scandals engulfing his administration. People can find the tweets for themselves. It's his usual shtick, although with the new addition that the players don't even know what they are protesting against. He hates these players not only because it's red meat for his base. He hates them because they are using their platform to force a dialogue about racism, criminal justice, and police violence. …