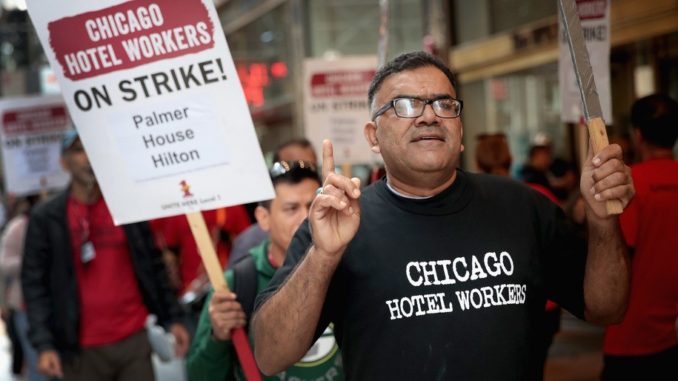 Reprinted from The Daily Kos by Laura Clawson on September 16, 2018.
Thousands of Chicago workers are out on their first citywide hotel strike in over a century:
Contracts at 30 downtown hotels—each negotiated separately—expired on August 31. The strike was authorized two weeks earlier by 97 percent of voting union members.

In addition to raises, safer workloads, increased sick days and improved job security, workers are fighting to win year-round health insurance. Hotel workers with lower seniority are typically laid off during the winter months, when business gets slow, and lose their healthcare until they are rehired in the spring.
Meanwhile, Marriott workers in San Francisco and San Jose voted to authorize a strike, following workers in Honolulu and Boston and on Maui. They say that "one job should be enough" for workers at the world's largest hotel chain.
McDonald's workers are set to hold a one-day strike over sexual harassment. It's coming on September 18 in 10 cities …