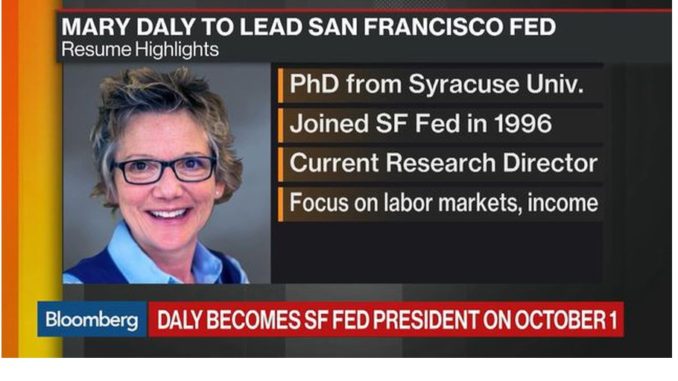 Reprinted from The New York Times by Reuters on September 14, 2018.
Mary Daly, a labor economist who dropped out of high school, later earned a PhD from Syracuse University, joined the San Francisco Fed's research department in 1996 and led it since 2017, was picked on Friday to be the bank's next president after a five-month search.
Daly, 55, will succeed John Williams, who left in July to become president of the New York Fed. She will take over the US central bank's westernmost outpost starting October 1, the San Francisco Fed said in a statement.
The timing means she will cast her first votes on monetary policy at the Fed's November and December meetings.
A prolific researcher who has focused for years on economic inequality, wage trends and labor force dynamics, Daly's public record shows she is likely to be a supporter of the gradual rate hikes favored by Fed Chair Jerome Powell and most of the rest of the policy-setting panel. …