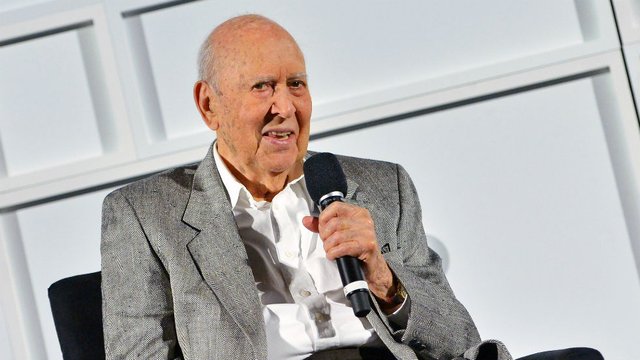 Reprinted from The Hill by Judy Kurtz on October 31, 2018.
Veteran actor Carl Reiner says his goal is to live until 2020 — in order to vote President Trump out of office.
"I'm 96 and a half years old, and I've seen a lot of things in my lifetime," Reiner, of The Dick Van Dyke Show and 2000 Year Old Man fame, says in a video released Tuesday by ATTN. [Follow the link for the clip.]
"I've lived through the Great Depression. I served in World War II in our fight to defeat fascism. I've seen the invention of television and performed on television even before my family owned one," Reiner says in a message delivered straight into the camera.
"But what I've never seen is the American people being lied to every single day about everything," he continues. "Lies about climate change, lies about protecting Medicare and Social Security, lies about Russia attacking our elections, lies about protecting people with pre-existing conditions."
"In my 96 and a half years, I've seen a lot of things, but the one thing I cannot bear to see is America being destroyed by racism, fearmongering and lies," the Hollywood writer and director says. …