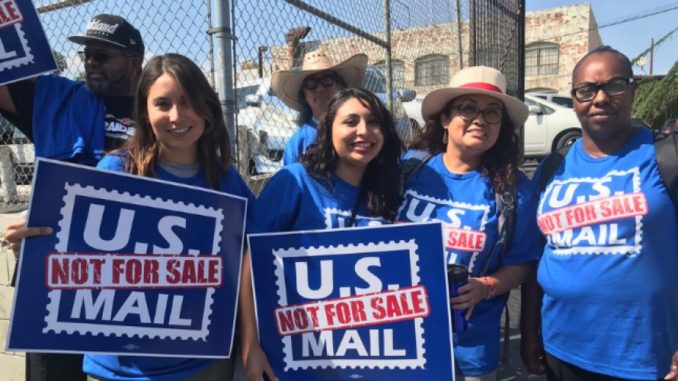 Reprinted from Common Dreams by Jessica Corbett on October 9, 2018.
As the United States Postal Service (USPS) closed on Monday for a national holiday celebrated by many municipalities as Indigenous Peoples Day, workers across the country held a day of action to protest President Donald Trump's proposal to privatize the postal service.
Under the proposal—unveiled in June as part of a 32-point plan (pdf) to significantly reorganize the federal government—USPS would "transition to a model of private management and private or shared ownership." The White House argued that "freeing USPS to more fully negotiate pay and benefits rather than prescribing participation in costly federal personnel benefit programs, and allowing it to follow private sector practices in compensation and labor relations, could further reduce costs." …
The truth is that the USPS's problems were largely created by Congress.
A bipartisan 2006 law, the Postal Accountability and Enhancement Act, mandated that the USPS pre-fund future retiree health benefits 75 years into the future. That means we have to fund retirement benefits for postal employees who haven't even been born yet.
It's a crushing burden that no other agency or company—public or private—is required to meet, or could even survive. …