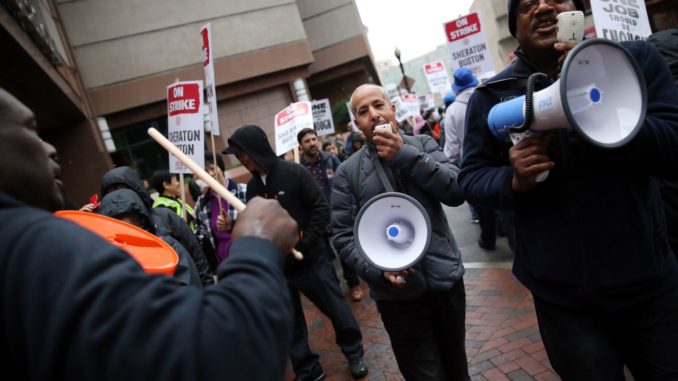 Reprinted from Teen Vogue by Kim Kelly on November 4, 2018.
"The past month has seen multiple sports teams run afoul with one of the most important current labor actions in America: a massive nationwide hotel work stoppage happening right now, with more than 7,700 members of a hospitality workers' union on strike," writes Kim Kelly in Teen Vogue.
"On October 4, 2018, when the New York Yankees baseball team was spotted crossing a hotel workers' picket line in front of Boston's Ritz-Carlton, they were lambasted online for their lack of solidarity with the workers there. A week later, the Los Angeles Dodgers baseball team crossed that same picket line to stay at the hotel, whose striking workers are predominantly women, people of color, and immigrants. The Edmonton Oilers ice hockey team crossed the border from Canada as well as the picket line to do the same thing on October 9, and now, this past week, the Philadelphia Flyers ice hockey team committed the exact same offense.
"Why is it such a big deal that they and their unionized cohorts crossed the Marriott picket line? Why does the concept 'never cross a picket line' matter? What does it mean to 'go out on strike' or to be a 'scab'? Let's break it down using these recent examples. …