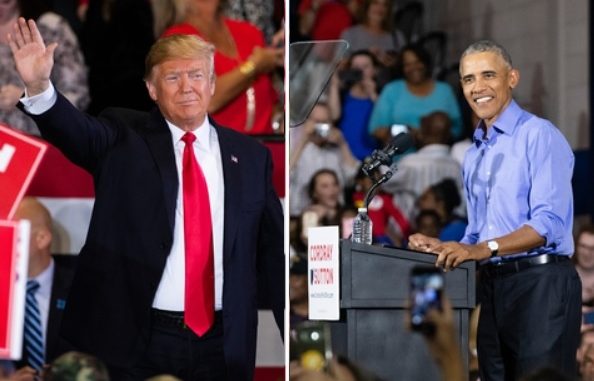 Reprinted from The New York Times by Reuters on November 4, 2018.
Republican Donald Trump and Democrat Barack Obama made dueling election appearances on Sunday, offering sharply different views on the country's problems but agreeing on the high stakes for voters in the final 48 hours of a tight campaign.
With opinion polls showing dozens of tight US congressional and gubernatorial races in Tuesday's election, the current and former presidents said the results would determine what kind of country Americans live in for the next two years.
"This election will decide whether we build on this extraordinary prosperity we have created," Trump told a cheering crowd in Macon, Georgia, warning that Democrats would "take a giant wrecking ball to our economy." …
Obama condemned Trump, without addressing him by name, and Republicans for what he described as their divisive policies and repeated lies. He hammered Trump and Republicans for repeatedly trying to repeal his signature healthcare law while at the same time claiming to support the law's protections for those with pre-existing conditions. …