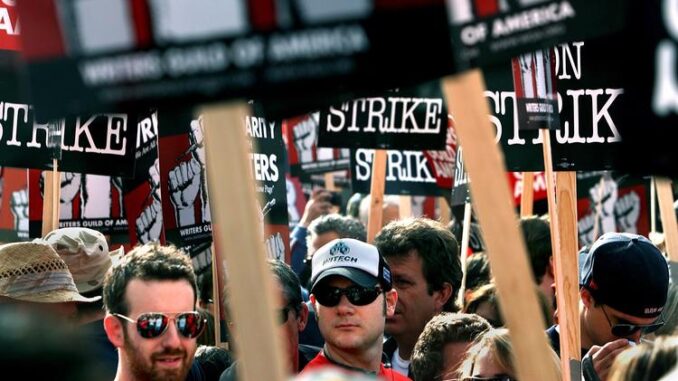 Reprinted from The Los Angeles Times by David Ng on May 9, 2017.
"The entertainment industry marches to the tune of box-office receipts and TV ratings, but the chorus of union pride can still be heard loud and clear at the highest echelons of corporate Hollywood," writes David Ng in The Los Angeles Times.
"As union membership continues to decline nationwide, Hollywood remains a bastion of organized labor, with unions controlling nearly every aspect of production, including the director who calls 'action' and the truck drivers who transport equipment to and from sets. Their power can bring the film and TV industry to a standstill — the Writers Guild of America came close to striking last week, only to reach a last-minute deal with the studios.
"The agreement underscored the leverage that unions still possess in the film and TV industries and highlighted a new wave of labor unrest. As viewers migrate away from traditional broadcast and cable to consume content on digital platforms, entertainment guilds are fighting to keep up with changing modes of compensation and to safeguard hard-fought benefits, like generous healthcare plans.
"SAG-AFTRA is set to begin its own contract negotiations this month, with talks expected to focus on such issues as residuals for streaming services including Netflix and Amazon. The actors' union is already several months into a strike against major video game companies. SAG-AFTRA is seeking a new compensation structure that would allow actors to start receiving residual-like payments on a game's commercial success, but game companies have balked at the demand. …
"In February, a Republican-backed bill was introduced in the House of Representatives that would introduce right-to-work laws nationwide, thereby allowing workers to choose not to join a union in companies covered by union contracts.
"Members of the WGA condemned the bill, saying it was an attempt to 'crush' the labor movement. 'Strong sturdy unions are essential to organize workplaces,' WGA East President Michael Winship and Executive Director Lowell Peterson said in a statement. …