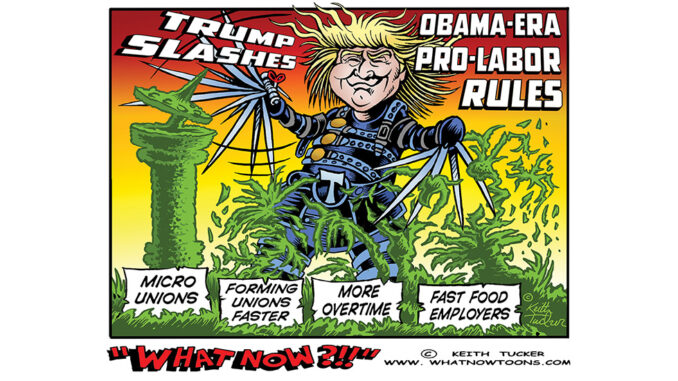 compiled by Jeff Burman
President Donald Trump is taking major steps to change the direction of federal labor policy, positioning the National Labor Relations Board to overturn several high-profile Obama-era labor decisions, writes Noam Scheiber in The New York Times.
By working toward filling two vacant seats and swinging the board from Democratic to Republican control, Trump could reverse gains made by former President Barack Obama.
What's at stake?
A ruling that increased the likelihood companies can be held responsible for labor violations committed by contractors and franchisees. This is a ruling that offered help to fast food workers.
A ruling that made it easier for relatively small groups of workers within a company to form a union. This is a ruling that offered help to nursing home workers, among others.
A ruling that granted graduate students at private universities a federally protected right to unionize.
Rules enacted by the Obama-era NLRB allowing union elections to proceed on a quicker timetable. Many business groups disparagingly refer to the new approach as "ambush" rules, complaining that employers no longer have sufficient time to "make the case" to workers against unionizing. Unions see these campaigns as pressure tactics.
The White House announced the nomination of Marvin Kaplan, a lawyer serving on a federal health and safety commission, to one of two vacant seats on the NLRB, which currently has a two-to-one Democratic majority.
Whatever Kaplan's appetite for political combat, his record appears to place him in the mainstream of Republican labor policy. If Trump's second board nominee fits the same profile — and the management-side lawyer said to be in line for the position, William Emanuel, appears to do so — the two would almost certainly join with the board's current Republican member, Philip Miscimarra, to undo crucial portions of the labor board's legacy from the Obama era.
Arguably the most prominent among them is Browning-Ferris, the 2015 ruling broadening the board's so-called joint employer doctrine. Under this approach, a company can be considered an employer of a worker employed by another firm, like a contractor or franchisee, even if the original company does not directly control working conditions there. Many of the workers benefitting from this ruling are fast food workers.
Government lawyers have also told a federal appeals court that the Labor Department plans to revise its pending Obama-era overtime rule, write Chris Opher and Ben Penn for Bloomberg News. They asked the court to affirm the DOL's right to use higher salary levels to determine eligibility for time-and-a-half pay in the future.
Bill Minimizes Arbitrary Work Schedules
While the Trump administration in Washington appears to be finding some success in using its executive branch power to undo many of the efforts of the previous administration to protect hourly paid employees, writes Lonnie Golden for The Economic Policy Institute, a more worker-friendly, forward-looking group in the US Congress has pushed back by offering an alternative approach — by re-introducing the Schedules That Work Act, previously SB 1772 and HR 3071. The purpose is to rein in both the causes and consequences of the intensifying use of more restrictive, last-minute scheduling of work.
The resubmitted national bill attempts to re-create elements of what some other states and cities in the United States, as well as other developed countries around the globe, have already proposed or implemented, adds Golden. The Schedules That Work Act uses three main features, with the overarching idea of setting a minimum floor standard that reduces short-term cost advantages for employers who rely on scheduling practices that shift the costs of uncertainty in their business on to hourly paid employees.
IATSE Holds 68th Convention
The International Alliance of Theatrical and Stage Employees began its 68th international convention in Fort Lauderdale, Florida on July 17. More than 840 delegates representing 270 locals from the US and Canada arrived at the Diplomat Hotel to caucus and review the business of the international union.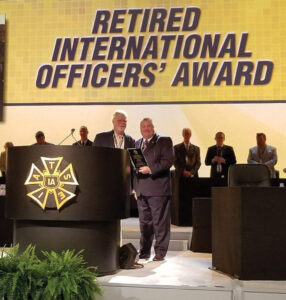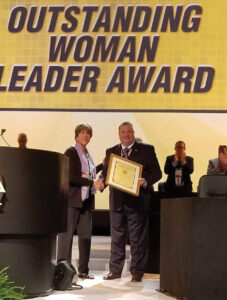 The Editors Guild sent a delegation of 13, who were elected from the Los Angeles and New York branches to represent MPEG members during the course of the six-day convention.
Members of the delegation commented that the proceedings "felt very much like a turning point" in the international alliance, as issues about diversity, women's rights, violence in the workplace and minority inclusion were discussed along with the more typical agenda of organizing, workers' rights, increasing the minimum wage and health care.
There was a new prominence for women's issues. Editors Guild National Executive Director Cathy Repola, who serves as chair of the newly formed IATSE Women's Committee, moderated a panel discussion of women professionals in the union. Not only was it fully embraced by IA President Matt Loeb, but it drew a sympathetic, standing room only audience. There were also several notable speakers and panels.
Senator Elizabeth Warren (D-MA) addressed the gathering via videotape from Washington. "I want to start with a big thank you to International President Matt Loeb and Women's Committee Chairwoman Cathy Repola," Warren said. "The battles that IATSE women have fought have helped level the playing field not only for women but for all working people."
Unions Put Muscle Behind Bills in California
While California legislative sessions frequently include lots of union-sponsored bills, writes Dan Walters for The Sacramento Bee, "the 2017 session is seeing a particularly strong push by union leaders." By far the year's strongest union campaign is the California Nurses Association-supported legislation, Senate Bill 562 by Senator Ricardo Lara (D-Bell Gardens), to create a single-payer health-care system costing approximately $400 billion a year.
The nurses argue that it would improve health care by eliminating provider profits, but it would also give the union opportunities to use its political clout in what would be a state-operated health-care system.
An indicator of that goal is another bill by Lara (SB 349), sponsored by the United Nurses Association of California and other health-care unions, to set state-mandated staffing requirements for dialysis clinics that, opponents say, could drive up costs of treatment.
The news item that follows elaborates on this issue.
California Senate Passes Single-Payer Health Care
The California Senate approved a measure in early June aimed at establishing a government-run universal health-care system, writes Taryn Luna for The Sacramento Bee.
The system, which would replace Obamacare — or whatever follows it under the Trump administration — would dramatically improve the health-care market in California. Approved on a 23-14 vote, it moves bravely to the Assembly.
In late June, Assembly Speaker Anthony Rendon (D-South Gate), put the brakes on the sweeping single-payer plan, calling the bill "woefully incomplete," write Taryn Luna and Christopher Cadelago in The Sacramento Bee. Rendon emphasized that his action does not kill the bill entirely since the current legislative session is the first year of a two-year session. The bill could be revived next year, adds Melanie Mason in The Los Angeles Times.
A single-payer plan is generally believed to deliver more health care by spending less on for-profit marketing and administration. Single-payer is also referred to as Medicare for All.
"With President Trump's promise to abandon the Affordable Care Act as we know it, it leaves millions without access to care and Californians are once again tasked to lead," said Senator Ricardo Lara. "Senate Bill 562 will finally enable California to cover all of its residents, creating a healthier and stronger state."
Many Democrats who supported SB 562 said they wanted to keep the idea alive. Some described it as a starting point and expressed confidence that Senators Lara and Toni Atkins (D-San Diego) would continue to work on the bill and figure out a way to pay for it, among other changes, adds Luna.
The California Nurses Association commissioned researchers at the University of Massachusetts, Amherst to estimate what it would cost to pay for the plan. The researchers at UMass estimated the plan would cost $331 billion, a sharp decrease from the $400 billion price tag published in a Senate analysis released in May.
Is California's single-payer proposal economically viable? According to research conducted by Robert Pollin and his colleagues at UMass, the answer is yes. Significantly, their figure also represents an 18 percent decrease from current health-care spending in the state.
A single-payer plan is generally believed to deliver more health care by spending less on for-profit marketing and administration. Single-payer is also referred to as Medicare for All. It would eliminate lifetime limits, pre-existing conditions and private insurers' interference in decisions about your medical care. Ultimately, it would leverage the purchasing power of 325 million Americans to buy health-care services and pharmaceuticals at lower prices.
The nurses add that the Legislature can consider $225 billion in existing federal and state funding used for health coverage for low-income Californians, as well as other tax subsidies, to help pay the rather hefty health-care tab. The study suggests lawmakers may also create two new taxes in the state: a 2.3 percent gross tax on business revenue above $2 million and a 2.3 percent general sales tax on everything except housing, utilities, groceries and other necessities, adds Luna.
Further, if the bill is ultimately fleshed out and approved, it would still have to go to Governor Jerry Brown, who has been skeptical, and then voters would have to exempt it from spending limits and budget formulas in the state constitution, writes Patrick McGreevy in The Los Angeles Times. Further, the state would have to get federal approval to repurpose existing funds for Medicare and Medicaid.
Hollywood's Mom Problem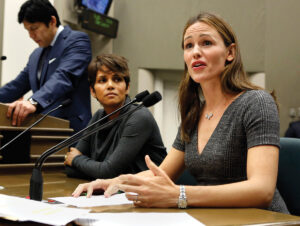 Of the 125 people appearing in The Hollywood Reporter's 2016 list of powerful players in the industry, 105 were men and only 20 were women, writes Mathilde Dratwa in The Los Angeles Times. What is often overlooked is a further disparity: The list includes 70 dads, but only 11 moms.
Even though the United States is one of only two countries in the world that does not guarantee paid maternity leave, some companies, especially in the Silicon Valley, offer mothers or fathers a substantial amount of paid time off when a child is either born or adopted. Netflix's policy, for instance, allows new parents to take up to a year off with pay. The major Hollywood studios could follow suit.
Significantly, because production work falls mainly to freelancers, parental leave is only a partial answer for women in the industry. It would improve conditions for full-time studio employees, but that won't help the number of female directors. Directors, especially women, often find it hard to get second features "green-lighted," a struggle that can often correspond with the stage in their lives when it makes the most sense to start a family. Parent-friendly practices would help women in this situation to sustain their careers.