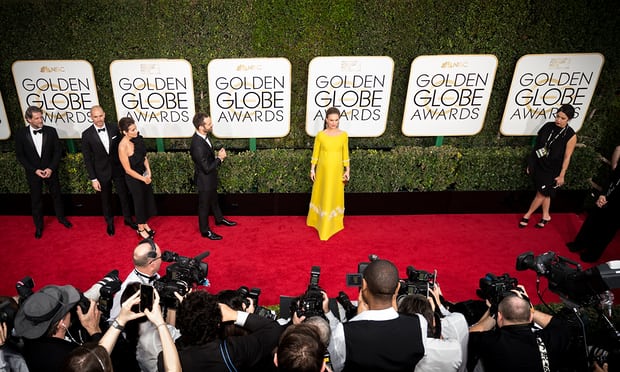 Reprinted from The Guardian UK by Rory Carroll on January 7, 2017.
The red carpet has returned to the Beverly Hilton hotel in Beverly Hills for the Golden Globes' 75th anniversary show on Sunday night, and jokes and champagne will flow. But there will be striking contrasts from the hosting era of Ricky Gervais when he would lampoon the Hollywood Foreign Press Association (HFPA), which organizes the awards ceremony, as venal and celebrity-obsessed.
Hollywood is in a serious mood, simultaneously combative and defensive as it grapples with sexual misconduct scandals, racial and gender inequality and Donald Trump.
And the Globes, for decades perceived as a frothy prelude to the Oscars, have morphed into a cultural arbiter, its deliberations, nominations and snubs – such as the lack of nominated female directors – closely monitored by studios and industry observers. …
Golden Globe nominees and award winners.
Hollywood Foreign Press Association 1/7
Complete Golden Globe winners.
Natalie Portman, Mark Ruffalo and More Reveal #WhyWeWearBlack at the Golden Globes
Reprinted from Variety by Meredith Woerner on January 7, 2017.
Hours before the Golden Globe Awards, the #WhyWeWearBlack protest is already in full effect with plenty of big names speaking out and answering the question of why they will be wearing black to tonight's Hollywood awards show.
Taking to her Instagram story, Eva Longoria rounded up several celeb motivations behind the black motif. "We wear black for many reasons," she said next to Instagram newcomer Natalie Portman. "One, to support the brave women who have come out with their stories. To those that are still silenced, we are with you."
"We wear black because we're looking forward to a new day where the powerful do not exploit others," Portman added. …