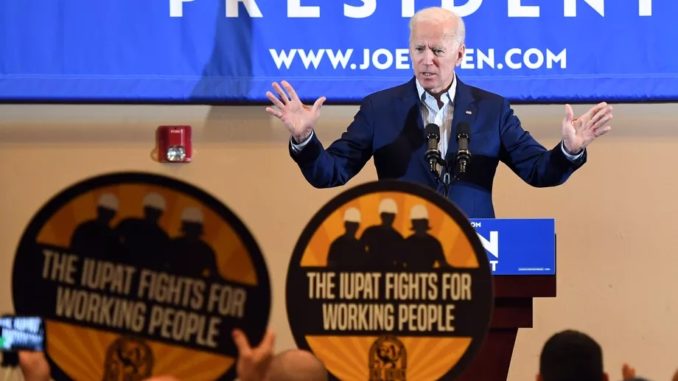 Reprinted from Vox by Tara Golshan on May 17, 2019.
One of the hottest stops on the 2020 campaign trail was the Stop and Shop supermarket employees picket line in Massachusetts this April.
Senators Elizabeth Warren and Bernie Sanders, South Bend, Indiana Mayor Pete Buttigieg, and Joe Biden all made a point of showing their support for workers during a 10-day strike against a corporate push to cut employee benefits. "When workers fight, workers win," Warren said.
The race to win the labor vote is on. But the groups representing the diverse field of workers, from the white working-class men who have traditionally defined union membership to the fast-growing coalitions of organized woman and people of color, aren't ready to back any one candidate. …
While Sanders came out of the 2016 elections with working-class credibility, organized labor — specifically nonwhite union members — was a major factor in Hillary Clinton's successful bid for the Democratic nomination. In the general election, Clinton underperformed Barack Obama among union workers; white male union members significantly shifted toward Donald Trump, outpacing Clinton altogether and delivering Trump the presidency.
Union members "vote at higher rates than most Americans, they are mobilized, they are in important states," Paul Frymer, a political scientist with Princeton University who has written on the labor movement, said. "The union movement is a big part of the Democratic Party — there isn't another mobilized coalition like it. They are the biggest civil rights movement in the country." …