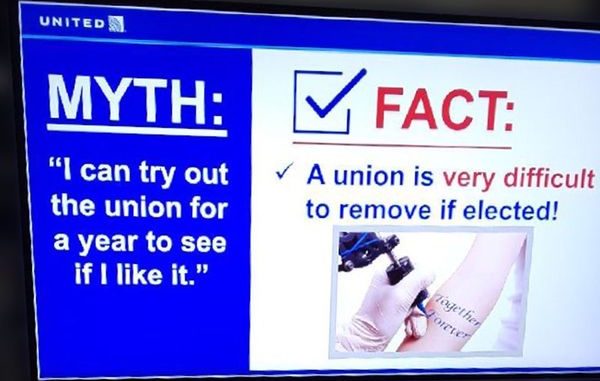 Reprinted from The Chicago Daily-Herald by Josh Eidelson on May 31, 2018.
The huge installations United Airlines uses to prepare and cook in-flight food recently got a new addition: some television screens. But rather than just providing news or talk show chatter, they broadcast messages explaining why workers shouldn't unionize.
Employees at all five of United Continental Holdings Inc.'s kitchens in the US said the screens, installed this year, broadcast a company line urging opposition to hospitality union Unite Here, which is seeking to organize its workers, or touting United's achievements. Among the messages are warnings about the cost of union dues, the potential for workers to lose benefits if they unionize and the difficulty of getting rid of a union once it's been voted in. The last point, the workers said, is illustrated with the image of a forearm with a "Together Forever" tattoo.
"It's driving people crazy," said Maria Villaroel, a 12-year employee who does safety and security inspections at United's kitchen at Newark International Airport. She said TVs have been broadcasting anti-union messages in the cafeteria, the loading dock and the food production area. "They're trying to wash people's brains." …