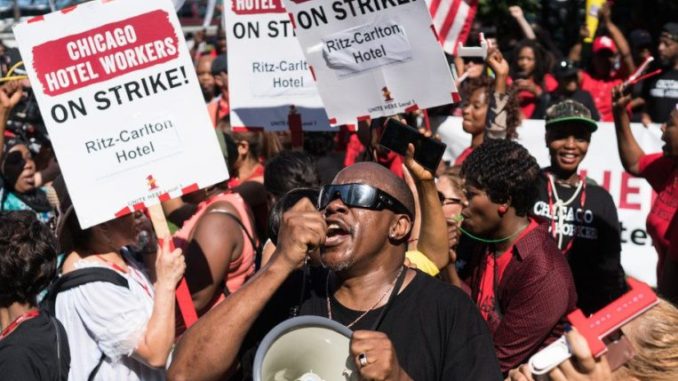 Reprinted from The Washington Post by The Associated Press on October 5, 2018.
New contract agreements have been reached at four more downtown Chicago hotels, nearly a month after strikes began at about two dozen locations.
Workers union Unite Here Local 1 and Hyatt Hotels say the new deals reached Thursday include three of the company's hotels and meet the union's major demand of year-round health insurance for employees who are laid off during slower months. The fourth agreement was with the Holiday Inn Mart Plaza.
The strike by housekeepers, doormen, servers, cooks and others began Sept. 7 after contracts expired for about 6,000 hotel workers. At its peak, the strike involved 26 downtown hotels. Hilton and Marriott hotels were among those affected that previously reached new contract deals.
The union says the strikes are ongoing at four hotels. The new contracts cover some 5,500 workers. …