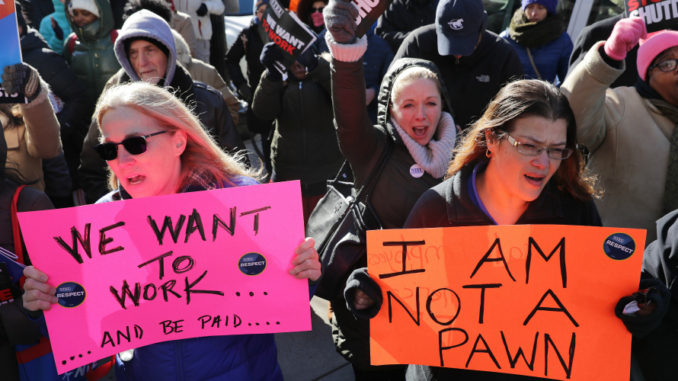 Reprinted from Common Dreams by Jessica Corbett on January 10, 2019.
Federal workers, government contractors, and the unions that represent them rallied in Washington, D.C. on Thursday to pressure President Donald Trump and Senate Majority Leader Mitch McConnell (R-Kentucky) to end the ongoing government shutdown, which is just days away from becoming the longest in US history.
As the president continues his "temper tantrum" over $5.7 billion in funding for his "ridiculous" wall along the US-Mexico border—which Democratic lawmakers and the majority of Americans have consistently opposed—the 800,000 federal employees who aren't getting paid during the shutdown are calling on the GOP-led Senate to pass spending legislation approved by the Democratic House to reopen the government, with or without Trump's support.
Workers, union leaders, and members of Congress gathered at AFL-CIO's D.C. headquarter to deliver speeches, and marched to the White House carrying signs that said #StopTheShutdown and "Congress: Do your job so we can do ours." …