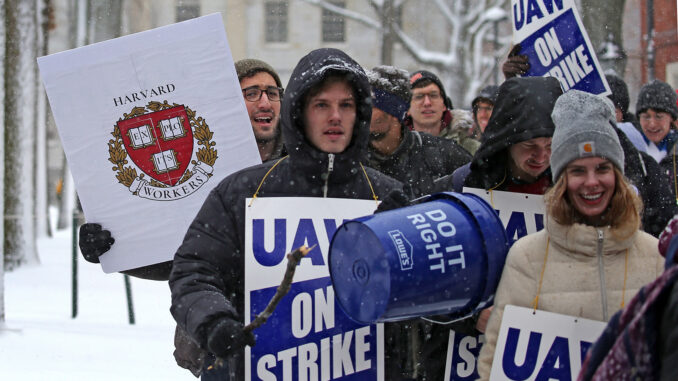 Reprinted from The New York Review of Books by Walter Johnson on January 27, 2020.
"At the beginning of January, thousands of graduate teachers and researchers at Harvard University returned to work after a contentious, month-long strike, with potential consequences for American workers reaching far beyond Cambridge," writes Walter Johnson in The New York Review of Books. "The Harvard Graduate Students Union (HGSU), a United Auto Workers affiliate that comprises roughly 4,500 student employees, has—together with unions at Columbia and NYU—been at the leading edge of a movement of academic workers that has swept the country over the last decade, and in 2018 it won one of the largest successful unionization elections in recent history. Over months of bargaining, Harvard reached common ground with the union on some issues—such as agreeing to provide student workers with the workspace and materials they require to do their jobs—while giving little on the central questions of wages, health care, and protections against harassment and discrimination. But at the same time, over the course of the strike, the university began to lash out in punitive and ominous ways.
"The issues at stake for Harvard's student workers are serious. Cambridge is one of the most expensive cities for renters east of the Rockies, with a median monthly rent for a one-bedroom apartment of $2,500. Contrary to stereotype, graduate employees are not kids; they are commonly in their thirties, getting by on wages under $20 an hour. Many have children or other dependents, as well as student loans, chronic health issues, and all the other financial challenges of adulthood in 2020. With long-term, tenure-track hiring in steep decline across academic fields, these conditions can no longer be justified as an unpleasant apprenticeship leading to a cushy tenured sinecure in the ivory tower.
"Moreover, members of the union have good reason to be skeptical of Harvard's commitment to preventing and redressing sexual harassment, which emerged as the strike's central issue. The university acknowledged recently that it knowingly protected and even promoted a professor named Jorge Domínguez for decades, despite an accumulation of sexual harassment accusations from eighteen different people. (Domínguez was finally barred from campus and stripped of his emeritus status last year.) In a 2019 survey by the Harvard administration, 39 percent of all enrolled students reported experiencing sexual harassment on campus. …