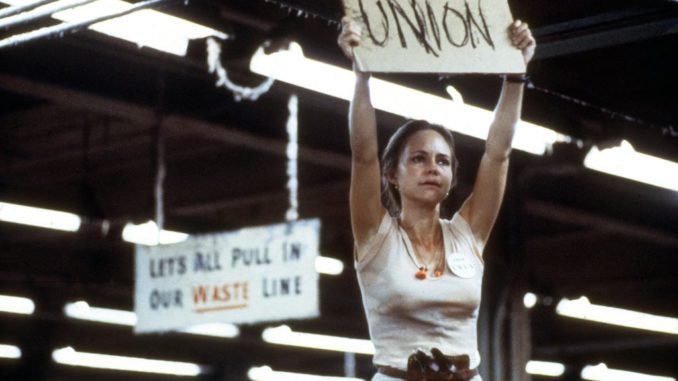 Reprinted from The New York Times by a variety of Times writers on August 29, 2019.
Here is a guide to some of the best movies about workers (their struggles, victories and enterprising endeavors) that are streaming or available for purchase in the United States right now. (Note: Streaming services sometimes remove titles without notice.)
"At times, a film needs just one crystallizing image," writes Manohla Dargs in the New York Times.
"Near the end of Norma Rae, the title character played by Sally Field grabs a piece of cardboard and scrawls 'union' on it in capital letters. Then she climbs on a table at the cotton mill — where she and so many others have sweated for too little pay in dehumanizing conditions — and silently holds up her sign as the police rush in to arrest her. The machines are deafeningly loud, pounding out the relentless rhythm of exploitation. Her defiance is louder. …