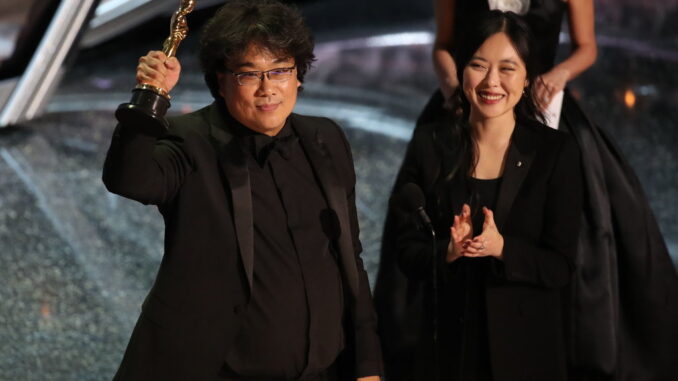 Reprinted from The Los Angeles Times by Josh Rottenberg on February 9, 2020.
In an upset victory and a historic milestone, director Bong Joon Ho's Parasite — a darkly comic class satire about two families, one rich and one poor, whose lives become entangled — won best picture Sunday night at the 92nd Academy Awards, becoming the first foreign-language movie to win the film academy's top prize.
Throughout awards season, Parasite was seen by many as the underdog in a field that included Martin Scorsese's gangster drama The Irishman, Quentin Tarantino's 1960s fantasia Once Upon a Time … in Hollywood and Sam Mendes' World War I movie 1917. But over time, the South Korean film worked its way into the hearts of Oscar voters, whose ranks have grown increasingly international and diverse in recent years. …
In recent years, the Academy of Motion Picture Arts and Sciences has brought in hundreds of new members from overseas as part of its ongoing effort to diversify its historically white-male-dominated membership. In naming Parasite both best picture and best international feature, the organization seemed to be embracing the chance to show that it has become less parochial and more open-minded than it may have been in decades past. …
Obama-Backed Documentary 'American Factory' Wins Oscar
Reprinted from CNN by Sandra Gonzalez on February 9, 2020.
American Factory, a film backed by the Obama's Higher Ground Productions, on Sunday took home the award for best documentary feature.
.
The film, about a culture clash at a Dayton, Ohio manufacturing plant, was the first project produced by the duo's new production outfit and marks a running start for the company. …
"Working people have it harder and harder these days, and we believe that things will get better when workers of the world unite," Reichert said in her acceptance speech. …
.
Academy Awards for Classifications Represented by the Editors Guild
Reprinted from The Academy of Motion Picture Arts and Sciences site on February 9, 2020.
Congratulations to the Guild's winners and nominees.
.
FILM EDITING
WINNER
FORD v FERRARI
Michael McCusker and Andrew Buckland
.
NOMINEES
THE IRISHMAN
Thelma Schoonmaker
.
JOJO RABBIT
Tom Eagles
.
JOKER
Jeff Groth
.
PARASITE
Yang Jinmo
.
.
SOUND MIXING
WINNER
1917
Mark Taylor and Stuart Wilson
.
NOMINEES
AD ASTRA
Gary Rydstrom, Tom Johnson and Mark Ulano
.
FORD v FERRARI
Paul Massey, David Giammarco and Steven Morrow
.
JOKER
Tom Ozanich, Dean Zupancic and Tod Maitland
.
ONCE UPON A TIME… IN HOLLYWOOD
Michael Minkler, Christian Minkler and Mark Ulano
.
.
SOUND EDITING
WINNER
FORD v FERRARI
Donald Sylvester
NOMINEES
JOKER
Alan Robert Murray
1917
Oliver Tarney and Rachael Tate
ONCE UPON A TIME… IN HOLLYWOOD
Wylie Stateman
STAR WARS: THE RISE OF SKYWALKER
Matthew Wood and David Acord