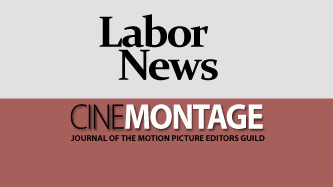 Reprinted from an AFL-CIO press release by Richard Trumka on October 22, 2020.
Statement from AFL-CIO President Richard Trumka in response to Thursday night's presidential debate:
Joe Biden reminded America [on Thursday] night how a strong, thoughtful, engaged and compassionate leader acts. His plan for defeating COVID-19 and delivering economic relief to the American people are the solutions we need in the face of the enormous spikes in cases and unemployment across the country. And his commitment to growing the labor movement will give more working families the collective power to win better wages, health care, retirement security and safety on the job. America's families deserve leaders who focus on "we, the people," not just on the person they see in the mirror. Only Joe Biden can be that leader. Union members will deliver the presidency for Joe and work with him to rebuild the country we love.
Brad Pitt Celebrates Joe Biden as 'President for All Americans' in New Campaign Ad
Reprinted from Deadline Hollywood by Alexandra Del Rosario on October 24, 2020.
As Hollywood stars continue to assemble in support of Joe Biden for the 2020 presidential race, Brad Pitt lends his voice to the former vice president's latest campaign ad.
The Once Upon A Time in Hollywood actor narrated a new commercial that dropped during the World Series game on Saturday. The ad, which premiered during the Los Angeles Dodgers – Tampa Bay Rays game, kicks off with a video montage of Biden delighting and sharing laughs with a range of supporters across America.
"America is a place for everyone – those who chose this county, those who fought for it – some Republicans, some Democrats, and most, somewhere in between," the Oscar-winning actor says as the clip of Biden meeting supporters of all ages and backgrounds continues. …