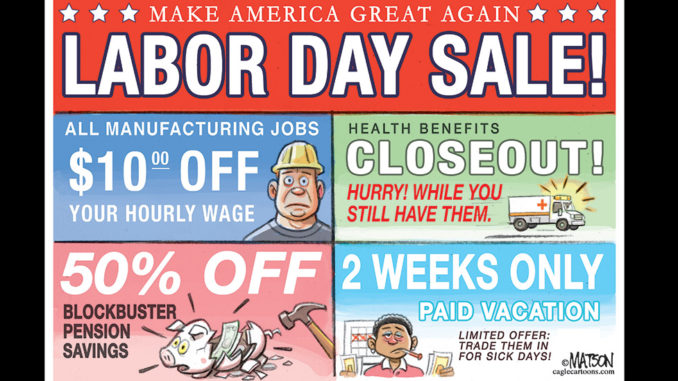 compiled by Jeff Burman
The AFL-CIO, the nation's largest union federation, has called out Activision Blizzard CEO Bobby Kotick and his 2018 salary after massive layoffs earlier this year, according to Patrick Shanley in The Hollywood Reporter in June. Nearly 800 employees lost their jobs in 2019.
AFL-CIO secretary-treasurer Liz Shuler called Kotick's 2018 $30 million compensation package akin to "legal highway robbery."
Activision Blizzard has called 2019 a "transition year." Its net revenue for the first quarter was down to $1.83 billion and, in January, the company announced a stock buyback program that would authorize it to purchase $1.5 billion in stock as Kotick cut 750 jobs in February alone.
Shuler said that such stock buybacks "artificially meet their incentive pay targets." She called on the Securities and Exchange Commission to "take action on corporate executives who abuse stock buybacks for their own personal gain."
WGA Makes New Offer to Agents
The Writers Guild of America has made a new, two-part offer to Hollywood's talent agencies, writes David Robb on Deadline. The agencies can continue packaging and taking packaging fees on feature films and TV shows for one more year before switching over to a new 10 percent commission framework, admittedly a business model that hasn't been used in decades.
In June, the WGA declared an impasse in their negotiations with the Association of Talent Agents, and offered to meet separately with the nine biggest agencies — all of which refused to meet with the guild.
The WGA's stance was to hold out for the elimination of packaging fees and sue the agencies to invalidate these fees. The guild's suit was brought in April, but was delayed by a judge, calling the underlying legal theories "complex." Many of the WGA leadership face a late summer election. The guild leadership's change in direction may reflect pushback by members.
"We will not counter on revenue sharing," WGA West President David Goodman told members, "because any percentage we respond with, even 98 percent, suggests the answer is somewhere in the middle, and it is not."
More than two months after thousands of writers left their agents when talks broke down over a new franchise agreement — overturning longstanding business practices in Hollywood and leading to a contentious lawsuit — the WGA has pivoted and plans to negotiate with individual agencies, writes Erik Hayden in The Hollywood Reporter.
Fundamental to the dispute between the major talent agencies and writers is the practice of packaging fees, in which agents are paid directly by a studio for attaching actors and/or a director to a writer's pitch, according to Hayden.
The WGA has argued that it seeks to end the practice altogether, while the agencies have upped their offer to cut scribes in on the practice, proposing 2 percent of such fees. On June 7, at the start of negotiations with the guild that day, Creative Artists Agency Co-Chairman Bryan Lourd described the increased offer as "specifically designed to benefit the large group of writers who contribute to packaged shows but do not have backend/ownership positions. Our proposal benefits the working writer," he said.
UAW's Failed Chattanooga Campaign
Volkswagen employees voted 833 to 776 to reject unionization in June, writes Jamie McGee in The Tennessean. The automaker employs about 1,700 workers and 3,200 temporary workers at its Chattanooga plant.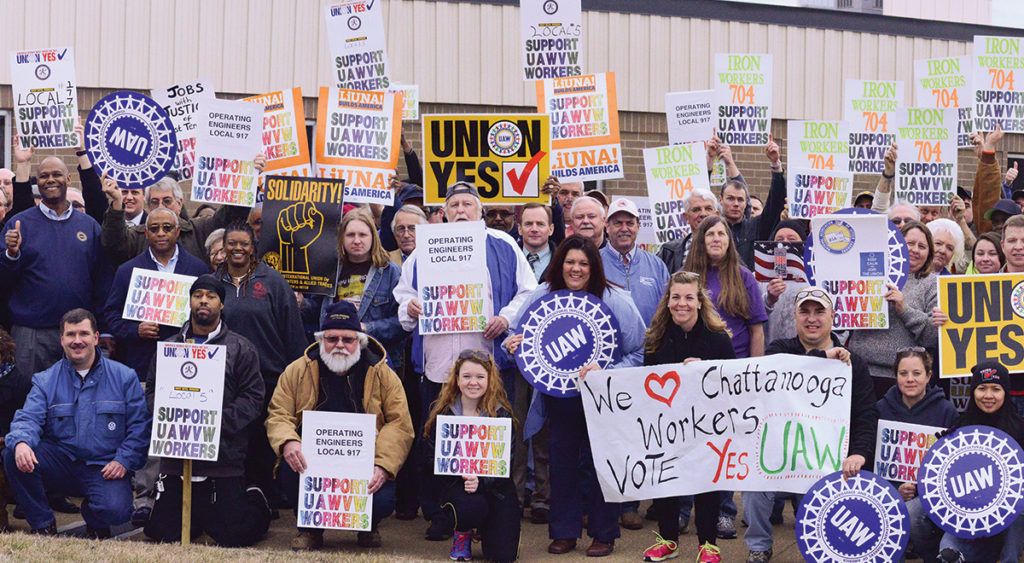 "The United Auto Workers just suffered its second major defeat at Volkswagen," writes labor journalist Chris Brooks in Jacobin, for which he interviewed retired autoworker Stephan Krull in late June. Krull is an IG Metall activist from Volkswagen's flagship plant in Wolfsburg, Germany, where he served for many years on the plant's works council. He and Brooks discussed why the UAW's German allies were unsuccessful in reining in American management and what the anti-union turn in the US factory means for the German social model.
Under German laws, writes Brooks, employees have a right to "co-determine" the companies they work in through the election of employee representatives to "works councils" and the company's board. Works councils allow white- and blue-collar, non-managerial workers to have non-confrontational meetings with management in which they make collective decisions regarding their immediate workplace. Workers' representatives also make up half of the employer's board, even of massive global corporations like the Volkswagen Group, which is the world's largest automaker.
The UAW modeled its campaign on its German allies' in the Global Works Council and IG Metall, the largest union in Germany, in the hope of using the German model of "social partnership" in the United States. In Chattanooga, that didn't work. The UAW has run two plant-wide elections, one in 2014 and another in 2019, adds Brooks. Both failed.
"Is co-determination and the German model of social partnership a failure?" Brooks asked Krull. "On the one hand, social partnership has always been an illusion," responded Krull. "Power relations in capitalism do not allow for real labor-management partnerships; the owners continue to decide what, when, where and how much is produced.
"On the other hand, there was a class compromise following the defeat of capital-sponsored fascism in Germany and the systemic struggle between socialism and capitalism, between East Germany and West Germany.
"The social partnership illusion is now bursting because the rivalry between these two economic systems no longer exists. Capital is less dependent than before on compromises and concessions. The result is that co-determination is being eroded for workers, and management simply chooses to forgo co-operation with the works council without consequence and without loss, as the events in Chattanooga prove."
Wayfair Workers Denounce Profiting from Child Detention
Protesters filled Boston's Copley Square in late June as part of a "Wayfair Walkout," in which the company's employees staged a work stoppage to protest the retailer from profiting from President Donald Trump's child detention policies, according to Eoin Higgins in Common Dreams.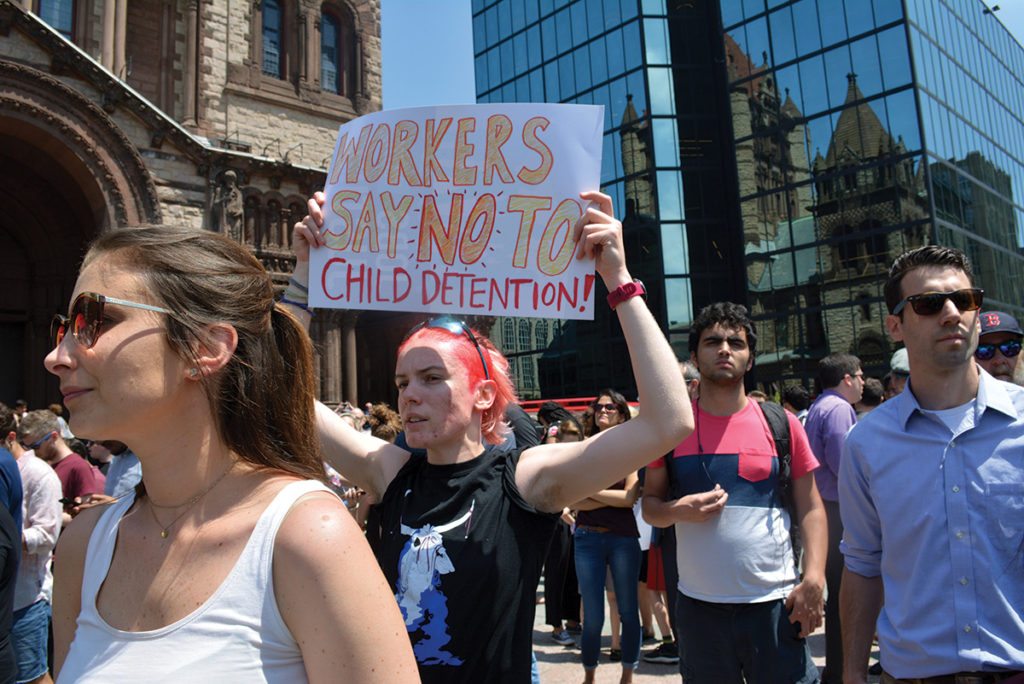 Hundreds of Wayfair workers and supporters joined the action both in Boston and in Brunswick, Maine. The Boston Globe reported that management "indicated there will be no retaliation for employees who participate in the walkout."
The protest grows out of worker unrest over Wayfair's contracting with BCFS, a company running child detention facilities. In a letter to Wayfair leadership on June 21, a group of 547 employees called on the company to reject the contract because "the current actions of the United States and their contractors at the southern border do not represent an ethical partnership Wayfair should choose to be a part of."
Report Employer Misconduct, Face Retaliation
Social justice movements, such as the Fight for $15 and #MeToo, rely on workers to come forward to assert their rights — but workers who dare challenge an employer's policies or misconduct will almost certainly face retaliation, according to an article by Laura Huizar for the National Employment Law Project (NELP). Even highly paid Google workers have been forced to protest retaliation after a mass walkout criticizing the company's handling of sexual harassment. A new NELP survey of laws in all 50 states and the District of Columbia shows that state laws overwhelmingly fail to provide workers with essential retaliation protections.
In the article Exposing Wage Theft Without Fear: States Must Protect Workers from Retaliation, NELP offers an analysis of how state laws fail to protect workers when they challenge wage theft by lodging complaints with employers or government agencies, filing lawsuits or engaging in public actions.
"It is more important than ever to ensure that state laws offer workers strong retaliation protections," said Laura Huizar, senior staff attorney with NELP. "The future of workplace conditions and workers' ability to organize depends on having strong retaliation protections in each and every state."
This is especially true in the wake of the National Labor Relations Board (NLRB) general counsel's position, clarified in a case recently, that workers who file lawsuits or complaints with government agencies will no longer be entitled to the National Labor Relations Act's (NLRA) retaliation protections, under the theory that state laws already address retaliation.
House Committee Passes Bill to Rescue Union Pension Plans
The US House Education and Labor Committee approved a bill in June that would rescue failing multi-employer pension plans, according to an unattributed article in NW Labor Press. The bill, HR397, was originally sponsored by Representative Richard Neal (D-Massachusetts) and is currently co-sponsored by 185 representatives. 
If it passes the full House and Senate, the measure would help the 100 or so union-sponsored multi-employer plans that are in danger of insolvency, by giving them 30-year low-interest federal loans to shore up their assets. HR397 is backed by the AFL-CIO.
It's estimated that about 1 million union workers, retirees and their dependents are in plans that are may be headed toward insolvency. Congress bailed out the banks back then, but has, so far, been reluctant to provide any help to the roughly one in 10 union pension funds that were sent into a tailspin by the 2008 recession.
Wall Street Pivots to Biden, Harris, Buttigieg
Wall Street financiers, according to Jake Johnson in Common Dreams, have dismissed two top contenders for the Democratic presidential nomination — Senators Elizabeth Warren and Bernie Sanders — as completely unacceptable. Wall Street insiders have reportedly begun to narrow their list of 2020 favorites as candidates' fundraising efforts reach a "fevered peak" ahead of the June 30 filing deadline.
As The New York Times reported on June 16, "three candidates are generating most of the buzz" among powerful Wall Street donors: South Bend, Indiana Mayor Pete Buttigieg, former Vice President Joe Biden and California Senator Kamala Harris.
"[W]hile many are still hedging their bets, those who care most about picking a winner are gravitating toward Biden and Harris, while donors are swooning over Buttigieg enough to open their wallets and bundle networks for him," according to the Times, which interviewed two dozen top fundraisers and political advisers.
According to ABC News items and The Washington Post, Buttigieg raised $24.8 million, Biden $21.5 million and Harris $12 million. For their part, Sanders raised $24 million and Warren $19 million. Meanwhile, President Donald Trump has raised $54 million.
NLRB Restricts Union Access on Employer Premises
The NLRB issued a decision in mid-June, reversing 40 years of precedent by giving employers expanded rights to block union activity by non-employees at an employer's facility, according to Steven Suflas and Michael Greenfield writing in The National Labor Review.
Under prior NLRB precedent, employers were required to permit contact by non-employee union representatives in areas open to the general public. Failure to do so was considered a violation of the NLRA. That so-called "public space" exception was abolished by the NLRB's recent decision in UPMC and its subsidiary, UPMC Presbyterian Shadyside, 368 NLRB No. 2. f