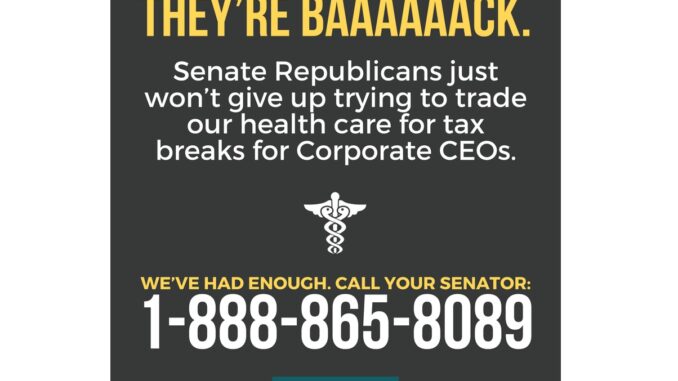 Reprinted from The AFL-CIO's blog Now by Shaun O'Brien on September 20, 2017.
Do you remember "Repeal and Replace," "Repeal and Run" and "Skinny Repeal"? Those were all plans pushed by the Senate Republican leaders at the end of July in a frantic, failed attempt to repeal the Affordable Care Act (ACA) and make massive cuts in our health care. Millions of working people stood up and spoke out to stop those cuts. Now, however, Republican leaders are back, just as desperate but hopeful they can sneak something through.
The media are calling the new Senate Republican proposal the Graham-Cassidy plan because two of its lead authors are Senators Lindsey Graham (R-South Carolina) and Bill Cassidy (R-Louisiana). A more accurate way to think of it is as "Repeal, Replace and Run."
This plan wipes out major parts of the ACA. There are no more federal tax credits to help the middle class pay health insurance premiums. No more Medicaid expansion for low-income working people. No airtight ban on discriminatory premiums for people with pre-existing medical conditions. Insurance companies can impose an age tax by charging older Americans up to five times what they charge young adults. Employers are let off the hook completely: No employer would be required to contribute toward any worker's health care; but the 40% tax on middle-class worker health benefits would be made permanent.
In place of much of this, the federal government would give out time-limited block grants to states to do with what they please.  …