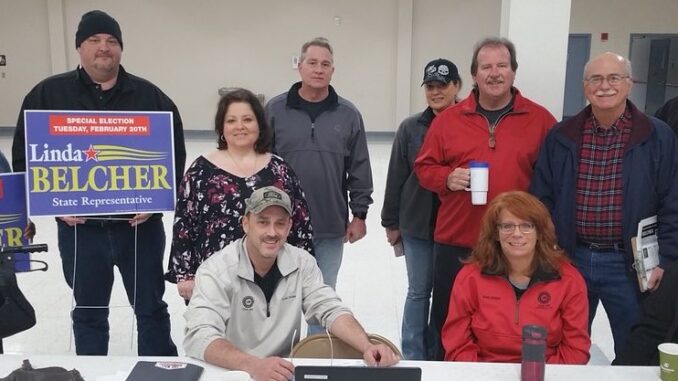 Reprinted from The AFL-CIO Now by Rachel Rekowski on February 21, 2018.
On Tuesday, working people claimed a landslide victory in a Kentucky special election. "I could not have done this without labor," said Democrat Linda Belcher in her victory speech. She's the newly elected state representative for House District 49 in Bullitt County, just south of Louisville where then-presidential candidate Donald Trump carried 72% of the vote in 2016.
Union members knocked on doors in freezing weather and made phone calls in the district to make sure a real champion for working people would represent them in the state House. The Greater Louisville Central Labor Council, Kentucky State AFL-CIO, United Steelworkers (USW), Laborers (LIUNA), UAW Local 862 and Teamsters Local 89 members had thousands of conversations with more than 2,000 union members who live in House District 49.
"Unions stand in solidarity with pro-working family candidates. We are proud to fight for folks who will pass pro-working family policies and give all of Kentucky's hardworking men and women a better life," said Todd Dunn, president of the Greater Louisville Central Labor Council and Local 862. …