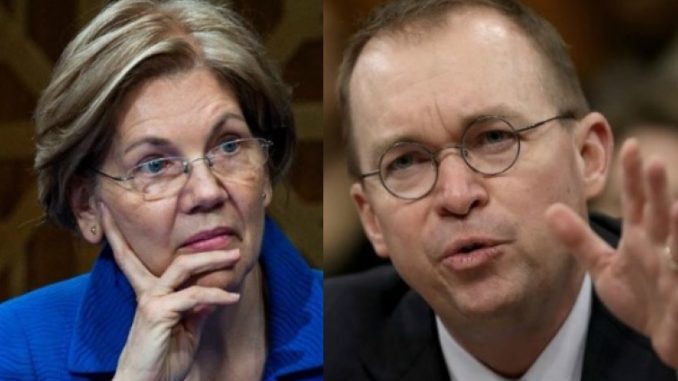 Reprinted from Common Dreams by Jake Johnson on April 27, 2018.
White House budget chief Mick Mulvaney has already admitted that he sold access to lobbyists as a member of Congress, but now Senator Elizabeth Warren (D-Massachusetts) is demanding to know whether he's doing the same as acting head of the Consumer Financial Protection Bureau (CFPB), given that "almost every major decision he's made" at the agency has rewarded his campaign donors.
In a letter (pdf) to the CFPB on Thursday, Warren wrote that Mulvaney "owe[s] the public straight answers" about whether "financial contributions have affected" his policy moves made since President Donald Trump controversially—many say illegally—placed him at the head of the consumer bureau.
"Almost every one of your major decisions at the CFPB has fulfilled a request of a lobbying organization that has donated tens of thousands of dollars to your political campaigns," Warren noted, alluding to the nearly $63,000Mulvaney received from payday lenders while representing South Carolina in the House of Representatives. "The public deserves to know whether this is a coincidence or is a reflection of the same kind of 'hierarchy' you created when you ran your congressional office." …