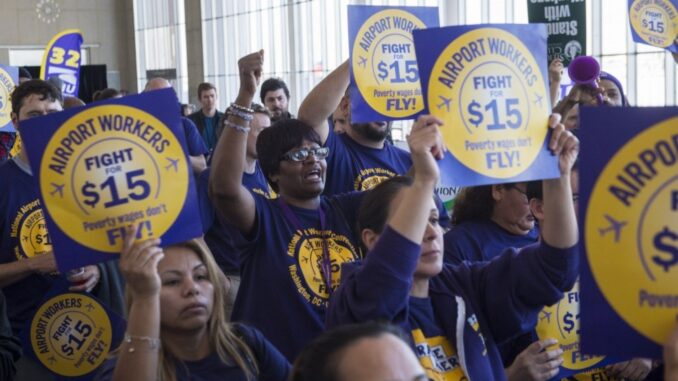 Reprinted from The Washington Post by Luz Lazo on November 28, 2016.
Cabin cleaners, baggage handlers and wheelchair attendants at major US hubs will join thousands of other low-wage airport workers in a national day of protest Tuesday to demand better wages.
Authorities say the demonstrations, planned for airports in New York, Los Angeles, Washington and elsewhere will have minimal impacts on operations, but workers are hoping they will draw the attention of travelers returning from the long Thanksgiving holiday weekend. Workers at Chicago's O'Hare International Airport are taking more serious steps and planning to strike.
This could be the largest demonstration of service industry workers as part of the growing labor movement known as the Fight for $15. …
As part of the demonstrations, fast food restaurant workers plan to walk out on their jobs in cities across the country and be joined by other workers in healthcare, retail and maintenance. Street marches are planned to protest police killings of black Americans and Trump's plan to deport millions of undocumented immigrants. …