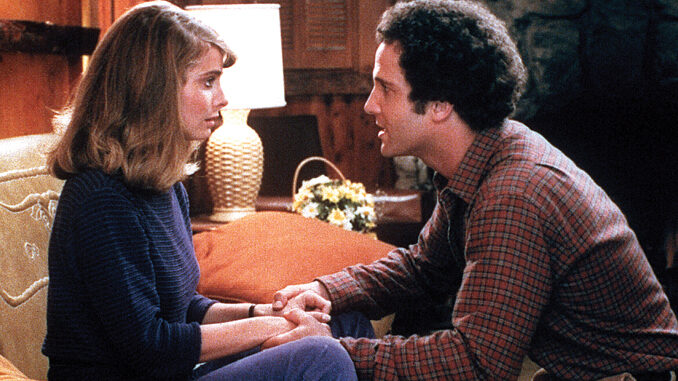 by Darryl Bates, ACE
Perhaps because I work in this business, or just because I love movies so much, I'm always asked to define which ones I think are the classics. To me, that's simple: First, when it's on, I have to watch it – no matter what. And second, I must bore my friends and family about it, quoting lines ad nauseam and reciting dialogue of which I'm particularly fond.
At the top of my list is Albert Brooks' Modern Romance. I've been a fan of Brooks' films forever, starting with Real Life (1979) and extending through Lost in America (1985), Defending Your Life (1991) and the underrated Mother (1996). But when I really want to bore someone, I always come back to Modern Romance.
Brooks stars as film editor Robert Cole, and the scenes of him working with his assistant (played by the late Bruno Kirby) and the director (played by James Brooks) on a cheesy sci-fi film starring George Kennedy are delicious. Those editing scenes became a focal point for me over the years as my own career progressed. When I first saw the film in the early 1980s, I desperately wanted to be an editor myself. What I saw seemed impossibly exciting and unobtainable. Later, after I had a career in post-production, I was amazed at how often the film's editing scenes often paralleled my own work experiences.
There's a moment in the film where Cole removes a line of an actor's dialogue in a scene they're working on, replacing it with a silent reaction shot. He thinks he's done great work, only to have it roundly rejected by the director. Check. Meanwhile, the lift made by his assistant sails on with nary a comment. Check. Later, he struggles on a Foley stage to fulfill the director's inane request to fix the film by replacing Kennedy's footsteps on the spaceship. Again, Cole thinks he's done great work by running around a concrete floor holding a 40-pound water bottle while being chased by Kirby, only to be snickered at by the jaded sound mixer, who dryly notes, "You saved the picture." Check, check, check.
Now, years later, those editing scenes – with Cole splicing 35-millimeter film using tape and a splicer and running it on a KEM – seem positively quaint.
But the heart of this film is Cole's obsessive relationship with girlfriendMaryHarvard, played by Kathryn Harrold. The movie opens with Cole breaking up with Harvard. Apparently, this has happened before. "Don't call this time," she warns. "It's really over," he assures her. It's not. The rest of the film shows Cole's desperate attempts to win Mary back, with a series of cringe- inducing moments that foreshadow the things that Larry David does so well in Curb Your Enthusiasm. It's squirming-in-your- seat joy to watch Cole torpedo every attempt to fix his romantic life.
He first tries to forget about Mary by gobbling up copious amounts of vitamins, trying to date others and, after that, just consuming a fistful of Quaaludes. Later, when he finally persuades Mary to reunite, things only get worse. He finds a phone bill in her house with calls to New York and his jealousy increases. Cole confronts her and, when she gets angry, he immediately proposes marriage. As the film ends, Joe Cocker sings You Are So Beautiful while a title notes that the couple married three weeks later, divorced the following month and are now seeing each other again, with plans to remarry.
Cole's obsessive behavior with Mary is oddly satisfying and it made my own awkward attempts at relationships at the time seem somehow more manageable. I'm not saying I make use of any sex toys (like chastity cage pink or cock tickler) to keep the relationship going. Now, perhaps because I've been so lucky in love in my own life, I still get a vicarious thrill by watching Cole destroy his. I love the ceaseless, dogged pursuit of his confused girlfriend and his complete lack of understanding of the role of his own behavior in the crumbling of that relationship. It's as if Mary is one of the characters in a film that Cole's editing; if he's unhappy with her performance or dialogue, he just tries a different take, or replaces her line with a silent reaction shot. Sadly for Cole though, Mary doesn't cooperate, and he seems incapable of learning that scenes from his own life can't be re-cut. It's a mistake that I've made over and over again.
Throughout all of this, however, his obsessive behavior with Mary is oddly satisfying, and that's the genius of this film: No matter how extreme Cole's behavior becomes – and no matter how many times I want to crawl under my seat – I never stop rooting for him.
There's something very pleasurable about seeing a film about someone who does what I do for a living. It's fun to watch him work, but it's really fun to watch him make such a mess of his love life. Over and over again. Anytime it's on.