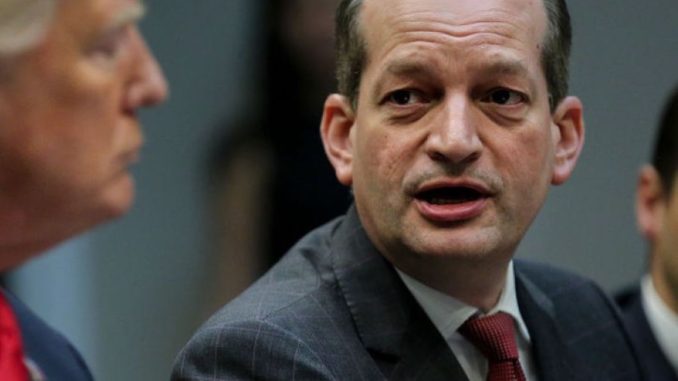 Reprinted from The Washington Post by John Wagner, Ashley Parker and Josh Dawsey on July 12, 2019.
Labor Secretary Alex Acosta resigned Friday amid intense scrutiny of his role as a US attorney a decade ago in a deal with Jeffrey Epstein that allowed the financier to plead guilty to lesser offenses in a sex-crimes case involving underage girls.
President Trump told reporters Friday morning that Acosta had decided to step aside. He called Acosta a "great labor secretary, not a good one" and a "tremendous talent." …
Trump said that Patrick Pizzella, the deputy secretary of labor, will become acting secretary of the department.
The 2008 plea deal in Florida came under renewed scrutiny in light of Epstein's indictment Monday on more child sex trafficking charges in New York. …
Pelosi on Acosta: 'Thank God He's Gone'
Reprinted from The Hill by Mike Lillis on July 12,2019.
Speaker Nancy Pelosi (D-California) made clear Friday that she won't miss Alex Acosta.
"Thank god he's gone," she told a group of reporters in the Capitol.
Acosta, President Trump's Labor secretary, announced Friday that he'll step down on July 19 amid an intensifying controversy over his role in a 2008 criminal case involving New York financier Jeffrey Epstein, who was arrested Monday on sex-crimes charges involving underaged girls.
Acosta, as a US prosecutor in Miami more than a decade ago, had worked to secure a plea deal that kept Epstein, then facing similar charges, out of federal prison. …
Wallance: A Journalist Brought Epstein to Justice and Acosta's Resignation — So Stop Demonizing the Press
Reprinted from The Hill by Gregory Wallance on July 12, 2019.
President Trump has called the press "the enemy" of the American people, accused The New York Times of "treason" and praised a congressman from Montana for physically assaulting a journalist. One-quarter of Americans now agree that "the president should have the authority to close news outlets engaged in bad behavior."
Julie Brown, an investigative journalist for The Miami Herald, just reminded us why Trump's attempts to intimidate and delegitimize the press are so dangerous. Brown broke the behind-the-scenes story of the disgraceful plea deal that Alexander Acosta, then the US attorney in Miami, secretly negotiated with attorneys for sex-ring trafficker Jeffrey Epstein. Brown started a firestorm that re-opened the Epstein case and, today, forced Acosta to resign as secretary of Labor.
Journalists were once defined by the chain-smoking, wisecracking, crime-beat reporters in the play The Front Page, and later by the clean-cut, dedicated types played by Robert Redford and Dustin Hoffman in the movie All The President's Men about Watergate. (Okay, in the movie Carl Bernstein smoked a lot, too).
Now the image of an investigative journalist is a woman in her late 50s who was raised by a single parent, left home at age 16 to earn enough money to attend college, and scrapped her way up the journalistic ladder at the Miami Herald.  …
Acosta Helps Trump to Shape Anti-Labor Policies
Reprinted from The Atlantic by Annie Lowrey on July 10, 2019.
… "In this good economy, of course, workers have not fared nearly as well as businesses have, and the working class has not fared nearly as well as the 1 percent," writes Annie Lowrey in The Atlantic. "The Trump administration has made sure of it, passing far bigger tax cuts for corporations and corporate executives than for nurses and janitors and schoolteachers; letting rich tax cheats, polluters, and the like get off easy; and slashing regulations designed to hem in corporate power.
"Acosta has played a central role in that deregulation, helping ensure that the fruits of the longest expansion on record keep on benefiting businesses more so than workers. The Department of Labor is moving forward on a proposal to scale back an Obama-era expansion of overtime pay, stripping time-and-a-half compensation from millions of lower-income workers. It delayed a rule requiring that financial advisers commit to act in the best interests of their clients. It has also relaxed regulations designed to ensure that tipped workers are fully compensated and rolled back workplace-safety reporting rules.
"Business lobbyists have been thrilled, labor unions and workers' advocates less so, though many feared that the Department of Labor would have been even more aggressive in its regulatory agenda than it has been. Indeed, Acosta has come 
under pressure
 within the Trump administration for not being swift or forceful enough—with Mick Mulvaney, Trump's acting chief of staff and all-purpose, high-level handyman, stepping in to move 
things along
. …