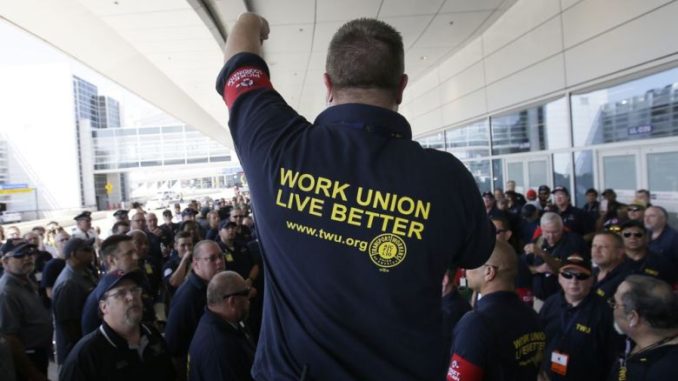 Reprinted from The New York Times by the Associated Press on June 29, 2019.
American Airlines says mechanics are defying a court order and continuing a work slowdown that is disrupting flights during the busy summer travel season.
The mechanics' unions say American is at fault. They say the airline walked away from contract talks, leading to low morale which might affect how quickly mechanics perform their work.
A trial is scheduled for Monday in federal district court in Fort Worth on American's request for a permanent injunction against the Transport Workers Union and the International Association of Machinists and Aerospace Workers. …
Airline Wants to Outsource 5,000 Maintenance Workers: Union
Reprinted from The Dallas Morning News on June 28, 2019. It is unattributed.
American Airlines could outsource another 5,000 union maintenance and fleet service workers, said one of the unions representing those workers.
After nearly four years of tense contract negotiations, International Association of Machinists spokesman Joe Tiberi said Fort Worth-based American Airlines is refusing to make commitments to how much maintenance and fleet service work will be done by company employees.
"They are looking to significantly reduce the union footprint," Tiberi said. "In places like Dallas, they replace union labor with lower cost and lower benefit labor, and that impacts the whole community." …
Negotiations are so tense that American accused its mechanics of intentionally slowing down work to create cancellations and delays. The unions have denied those charges, and the sides are set to meet in federal court Monday.