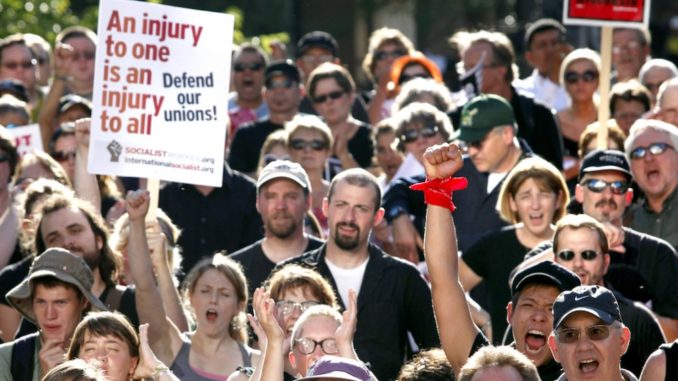 Reprinted from The American Prospect by Alexander Hertel-Fernandez on February 28, 2019.
"Last year's strikes and direct action by workers, especially red-state public school teachers, have rightly been celebrated for injecting new energy into the American labor movement," writes Alexander Hertel-Fernandez in The American Prospect. "Yet these mobilizations should not distract progressives from the magnitude of the challenges facing unions and their supporters in the Democratic Party. The next time Democrats regain control of Congress and the White House, they will need to put major reforms of federal labor law front and center. In the meantime, they ought to learn from conservative anti-union efforts about pursuing change through the states and developing a politically minded strategy for labor reform.
"In particular, Democrats need to think about labor law reform not just as yet another area of public policy, but rather as conservatives do: as a set of reforms that can build durable political power that enables further policy wins on other issues. Before spelling out the specific lessons that the left can take from the right's victories, it is helpful to step back to see just how differently Democrats and Republicans think about unions.
"Over the past four decades, conservative political activists and donors, often bolstered by private-sector businesses, have fruitfully used public policy as a political weapon to weaken unions, especially public-sector unions. Crucially, these cross-state conservative coalitions, above all the conservative 'troika' of the American Legislative Exchange Council (ALEC), the State Policy Network, and Americans for Prosperity, have never seen their anti-labor efforts as simply an end in themselves. Instead, right-wing advocacy against unions recognizes the inherently political role that the labor movement plays—and thus that efforts to weaken unions will eventually redound to conservatives' long-term political victories. …