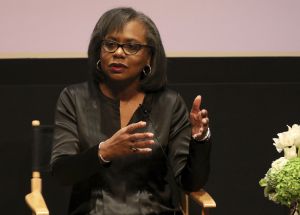 Reprinted from Deadline Hollywood by David Robb on November 20, 2019.
The Anita Hill-led Hollywood Commission on Eliminating Sexual Harassment has launched its long-anticipated survey of industry workers to gauge the extent of harassment and abuse in the workplace. The commission says it's a "call to action," and is asking for "everyone who has ever worked or sought work in entertainment to participate."
The commission says its goal in conducting this first-of-its-kind survey, which is completely anonymous and untraceable, is to gather data that will be used to develop policies that encourage diversity and inclusion while preventing bias and harassment.
"Due to the heroic and brave work of many, we all now know there are serious problems of harassment, bias and mistreatment of others in Hollywood," said Hill, who chairs the commission. "What we need to get our arms around, if we're going to come up with effective solutions, is reliable data that reveals the specific nature and actual extent of those problems as well as the cultural environment that enables and hides them. We also want to know what is going well, and how we can improve the industry for all employees. Therefore it is important for everyone who has worked or even tried to work in the entertainment industry to partake in the survey as their experiences will tell us what we need to know." …