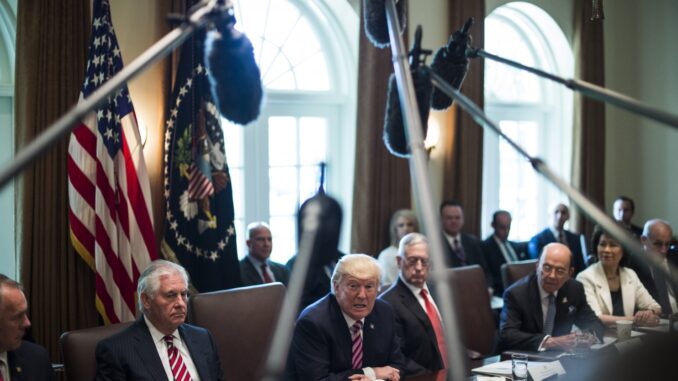 Reprinted from The Washington Post by Abby Phillip on June 12, 2017.
For a grand total of about 30 minutes on Monday, cable news networks broadcast a dry, unfiltered pitch from Labor Secretary Alexander Acosta and other Cabinet officials about President Trump's leadership and his policy agenda. It was no wall-to-wall coverage of former FBI director James Comey's testimony before Congress — but for a White House struggling to break through, it would have to do.
In an effort to counteract a never-ending stream of news related to the ongoing investigation into possible ties between the Trump campaign and Russia, the White House has taken the everything-but-the-kitchen-sink approach to showing progress on policy issues.
The president's schedule in June is packed with policy-related meetings and events in Washington and throughout the country, all with the goal of drawing attention away from the Russia probes and toward the White House's proposals on infrastructure, technology and jobs.
"With all the noise, with all the intensity of the media coverage and obviously, what makes headlines, ultimately, we're really focused on why the American people elected Donald Trump as their president and implementing that plan," Ivanka Trump said on Fox News on Monday morning as she kicked off the White House's week-long focus on workplace development. …