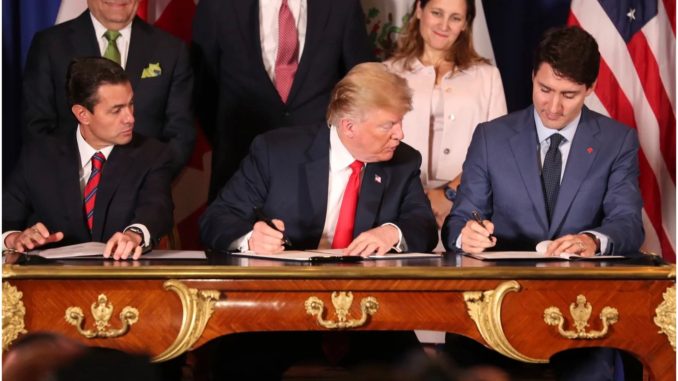 Reprinted from The Washington Post by Calvin Woodward and Paul Wiseman on December 1, 2018.
President Donald Trump is hailing a revised North American trade deal as if nothing existed before it.
The pact with Mexico and Canada stands as a "model agreement that changes the trade landscape forever," he said at a signing ceremony with the other leaders Friday in Buenos Aires, Argentina. But fundamental change happened under the deal's predecessor, the North American Free Trade Agreement.
The new one brings largely incremental change, with a few significant advances for the auto industry, and it has a new name, the United States-Mexico-Canada Agreement. …
In one new feature, it requires that 40 percent of cars' contents eventually be made in countries that pay autoworkers at least $16 an hour — that is, in the United States and Canada and not in Mexico — to qualify for duty-free treatment. It also requires Mexico to pursue an overhaul of labor law to encourage independent unions that will bargain for higher wages and better working conditions for Mexicans. …