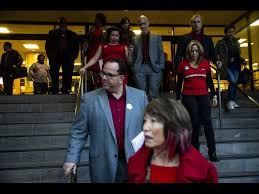 Reprinted from The Los Angeles Times byHoward Blume and John Myers on January 11, 2019.
Negotiations between the teachers union and the Los Angeles Unified School District ended Friday with no deal in sight. All signs point to the first walkout in 30 years in the nation's second-largest school system.
Union President Alex Caputo-Pearl said that unless district officials send over a significant new proposal, 31,000 teachers, librarians, nurses and counselors will be walking picket lines Monday. He said no district proposal has hit the mark yet, including a new one offered — and promptly rejected — Friday afternoon.
"Get ready," Caputo-Pearl said late Friday afternoon at a news conference outside district headquarters. "Because on Monday we will go on strike for our students, for our schools and for the future of public education in Los Angeles."…
Also Friday, Local 99 of Service Employees International Union, which represents about 30,000 non-teaching employees, announced that its members would stay off the job for as long as three days at 10 district schools. Those members include cafeteria workers, teaching aides, campus security aides and custodians. …
The district's current salary offer is 6% spread over the first two years of a three-year contract. The teachers are asking for 6.5% that would be retroactive a year earlier. But the union also is seeking to "fully staff" schools with new hiring aimed at making classes smaller and getting campuses full-time nurses, librarians for every secondary school and additional academic counselors. …