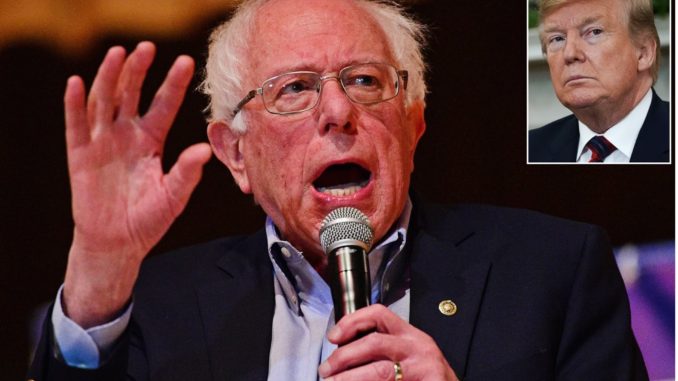 Reprinted from The Akron Beacon Journal by Kaitlyn McGarvey on April 15, 2019.
The crowd erupted in applause and chants of "Bernie" as Senator Bernie Sanders entered the Lordstown High School auditorium Sunday to discuss campaign promises and to criticize the closing of the General Motors plant last month.
The Democratic presidential hopeful opened his remarks before a crowd of about 100 by saying the situation in Lordstown should be part of a national conversation because plants have shut down across the country. He told those in attendance they must decide if they will allow companies to close down profitable plants, ask for tax breaks and dictate trade policies.
He also mockingly called President Donald Trump a "tough guy" for shutting down the government which denied federal workers paychecks. Along with challenging Trump to no longer give federal contracts to GM, Sanders added he and others would make it illegal to do stock buybacks unless a company respects and protects the jobs of its workers. …
Bernie Sanders on Fox News is Most-Watched Town Hall of 2019
Reprinted from The Wrap by Tony Maglio and Reid Nakamura on April 16, 2019.
Bernie Sanders just logged the most-watched cable news town hall of the election season with his Monday appearance on Fox News.
The Sanders town hall, moderated by the network's Bret Baier and Martha MacCallum, drew 2.554 million viewers, with 489,000 of them between the ages of 25 and 54. That overall audience was the largest tally of 2019 for these types of events. In the key demo, Sanders' turn finished third. …
Bernie Sanders and the Science of Smears
Reprinted from The San Francisco Chronicle by Matt Taibbi on April 16, 2019.
"… It wasn't until Sanders started piling up delegates that he began to take on the villainous characteristics for which he is now infamous," writes Matt Taibbi in The San Francisco Chronicle. "After he won primaries in 2016, suddenly reporters ripped him as a divisive narcissist with three houses who was the ideological mirror of Donald Trump, boasting racist, sexist and violent followers.
"This was all part of the age-old technique of focusing on the person instead of the ideas or the movement behind them. Sanders wasn't winning in 2016 because Bernie Sanders is some great stump act — he isn't. A fair portion of his support was coming from people who were fed up with both parties even before he decided to run.
"The easiest way to avoid dealing with uncomfortable truths is to create an ick factor around the politician benefiting from them. That was Sanders in 2016 and it's still him, mainly. However, Elizabeth Warren of Massachusetts and Tulsi Gabbard of Hawaii have also been pre-emptively dipped in the ick this cycle, cast as crippled politicians whose mere presence in the race will 'undermine' Democrats in the end. …